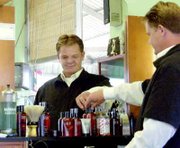 There is a bit of Americana in Larry's Barber Shop in downtown Sunnyside. The smell of aftershave and hot lather fills the 1960s looking barber shop.
The downtown barber shop, which has retired three barbers, is owned by Larry Coder. But Coder might not be the face one sees when they go into the shop nowadays.
Rodney Francis, 37, has been working at Larry's Barber Shop since this past spring on a part-time basis.
Francis, a native of Wapato, became involved with barbering after sustaining a serious on the job head and back injury while working as a heavy equipment operator in the construction field.
"I had an on the job injury that wouldn't allow me to do my old job," said Francis.
Forced to pursue a new career, Francis had his interest sparked in becoming a hair stylist, saying he finds the work relaxing. He graduated from the Sunnyside Beauty Academy in April.
"For the first couple of months (of school), I was wondering what I had gotten myself into," said Francis.
Francis said he quickly became accustomed to school, joking that it ended up being a lot of fun, as he would always received pedicures and manicures from the other students who would use him as their test subject.
Francis completed the 1,100-hour course at the beauty academy in eight months, citing that the classroom work was the hardest part of school for him.
Being a barber allows Francis to enjoy the comforts of air conditioning and a less strenuous work place while he recuperates from his injuries, which has kept him on the shelf for awhile.
After graduating from the beauty academy, Francis was looking for a place to hang his hat. Francis said he has been friends with Coder for awhile. Francis heard that Coder was looking for a partner because he wanted to slow down from his regular routine while battling diabetes.
"It has worked out great," said Francis of the partnership between him and Coder.
Francis says he enjoys the career choice that he made with being a barber. Francis said he enjoys the working atmosphere and the customers that come into the shop to get their hair cut. Francis said he is looking forward to spending a long time at Larry's Barber Shop.
"I am not going any where," he said.
Francis lives in Sunnyside with his wife, Michelle, and his three children, Jacqueline, Michael and Casey.