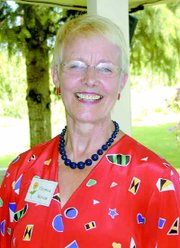 Growing up in a Christian family was no guarantee that Christine Masters of Powell River, B.C. would choose to accept Jesus as her Savior.
But, as she explained during Monday's Lower Valley Women's Christian Club luncheon, having that background made it easier for her to call upon her Lord when she realized she was in need of His strength.
Masters, a former flight attendant and fitness instructor, admitted she had always wanted to be independent. "I wanted to rely on myself. I wanted to be free to do as I chose," she said.
For most of her life, she let God be in the driver's seat in her life, helping her to growth strong spiritual roots like a tall healthy tree. "But every now and then I put Him in the back seat," she said.
It was at times like that when God would use her life to remind Masters who should be in charge.
Originally from Germany, Masters said she always had a hard time sitting still in church.
"I wanted to be running and playing," she said. "I didn't want to memorize Bible verses. It was agony trying to get them to stick in my head," she said.
But for reasons she never understood until much later, one verse always remained in her heart.
"It was a verse my parents used when things were hard," she explained. Taken from Proverbs chapter 3, verses 5 and 6, the message reminds God's people to lean upon him and not on their own understanding to let Him help make their path straight. In fact, Masters believes that verse has saved her on more than one occasion.
Before she decided to immigrate to Canada in 1966, Masters decided to take a bus tour of the United States.
"I had $99 and 99 days to see America," she laughed.
The first place the young traveler wanted to tour was New Orleans. "I went there because one of my brothers loved jazz," she explained.
Being on a tight travel budget, the innocent young Masters sought ways to conserve her money. One way she thought she could economize was by sharing a motel room with a fellow traveler. But her idea was filled with dangers.
"I met this young man on the bus and thinking I was a good judge of character, I asked him to share a motel room to save money," she explained.
"I thought, 'I can take him, after all I have three brothers at home'," she said.
But when the situation turned ugly, the young German woman called her Lord Jesus for help.
"It was the first time I'd called on Jesus to help me. I just told Him I was sorry for being stupid and to please help," she explained. "I didn't pray out loud and it was nothing eloquent."
But in a few minutes the young man, who had turned aggressive the minute the motel room door was closed, suddenly changed his mind.
"After locking me in the room, he turned to me and handed me the key and I got out of there," she explained
"It was then I realized that my ego had gotten in my way and it needed to be pruned back. Jesus Christ took pity on me and helped me when I was most vulnerable," she said.
"At that moment I decided to let Jesus be in the driver's seat of my life," Masters said.
That pruning of her ego and placing Jesus in the center of her life was the first step in her new spiritual growth, she said.
Of course, no one's travel through life is uneventful. Life is a roller coaster ride, Masters said. Over the years, she has had many occasions to be reminded that God didn't want to be in her life's back seat.
"I had to be reminded to put him back into the driver's seat many times," she said.
One such occasion was when she was transferred from Vancouver, which was her new home, to Toronto, halfway across Canada. Masters packed her car and took off across country. The first time she stopped for the night, Masters left her personal belongings locked up in her car outside her motel room. "The motel manager assured me they'd be safe there overnight," she said.
"The next morning my car was there, but my possessions were gone," she said.
"I'd gotten self dependent again," she admitted. "I was reminded of the "trust the Lord" verse. I didn't understand why I had to lose my possessions, but I knew God wanted my attention.
"While I stood there alternating between being furious and hurt, I laughed as I was reminded to put God back into my driver's seat.
"It was as if God was asking me if I wanted him to again be in my life," she said.
"I had to weigh the situation and decide if I wanted Jesus in my life more than I wanted possessions," she said.
"It was yet an opportunity to do a little more pruning to keep my spirit on the right path," she explained.
Not long after getting to Toronto, Masters wanted to move back to Vancouver. "My brother and his wife were expecting a baby and I wanted to be near. I wanted to be transferred right away," she admitted. "I prayed that God would made it possible for me to be back with my family," she added.
Fourteen days later, she got the call that there was an opening in the airline for her in Vancouver. She packed her things and headed home.
But then a new obstacle was thrown in her path. "As I held my nephews, jealousy rose its head. I had no husband and no child of my own," she said.
"I asked God to give me a husband and a baby. I prayed a lot of 'I want' prayers," she admitted.
Finally she realized God's plan and his timing was not of her understanding.
"I realized I had to let God do it his way," she explained.
Once again she turned the situation back over to God. Things again began happening in her life. "Fourteen days later I met David, a man who says what he means and means what he says," she smiled.
With David, she also got two sons.
"I had an instant family. But naturally, I still wanted a child of our own. We eventually had a little daughter," she said.
"Life requires a lot of pruning and it gives us a lot of reaping. And always there are new challenges to face," Masters said.
Now a grandmother, she is facing yet another challenge, only this time she knows to give it to God.
"I'm facing hip replacement surgery," she said.
"I hate the idea of being laid up for six months while my new hip heals into place," she said.
"But just as the 'trust the Lord' verse has stuck in my mind all these years, it is still there to comfort me today.
"Trust in the Lord ...and he will make my path straight," she said.
"Pruning our lives to stay on the straight path isn't easy. But the good news is that we have a totally trustworthy God to help us with the pruning if we let Him drive," she said.