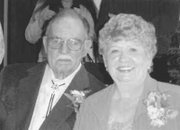 When Ernie Ribail, then 13, and Mary Lou Schut, then 10, first met in the asparagus fields of Eastern Washington, neither one of them realized that they were working alongside their future spouse.
But earlier this year, after years of being apart, the one-time high school sweethearts tied the knot.
Mary Lou (Schut) Ribail said when she first met Ernie she didn't see him as a romantic interest. Instead, he was just someone she worked side-by-side with in the fields.
"We were just cutting asparagus," Mary Lou said.
For Mary Lou, it wasn't until she was much older that she saw something in Ernie she hadn't seen before. She said the two dated during her senior year at Sunnyside High School.
But after dating for a year, the two grew apart and went their separate ways. Both of them got married to other people and lived happy lives on their own.
The two didn't meet again until years later, during the 2004 Sunnyside Pioneer Picnic. Mary Lou said when she first saw Ernie she thought he was still married. Mary Lou, herself a widow by that time, said it wasn't until the end of the day, when everyone was departing that she learned that Ernie, himself, had also been widowed.
Mary Lou said as Ernie, who lived in Hermiston, was leaving she asked him how his wife was, and that's when she learned the truth.
Then what started out as a chance encounter, slowly began to turn into more. Mary Lou said the two exchanged Christmas cards, Valentines Day cards and then St. Patrick's Day cards. That's when they decided to see each other again.
Mary Lou said they decided to meet halfway and have lunch together in Kennewick.
"We talked all afternoon," Mary Lou said. "Then we met the next week and we talked all afternoon again."
From then on, the couple shared long phone conversations and began seeing each other as regularly as they could.
"There was definitely a spark," Mary Lou said.
There was so much of a spark that during one of their long phone conversations Ernie asked Mary Lou to marry him.
The two were married on May 7, of this year at the Calvary Baptist Church in Sunnyside. Mary Lou's grandson gave her away during the ceremony, Ernie's stepson was his best man and another relative performed the ceremony.
Mary Lou said following the ceremony, Ernie moved from Hermiston to live with her in her Grandview home.
More like this story