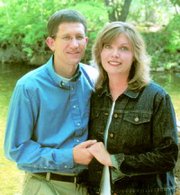 Saturday, Aug. 27, 2005, is the wedding date chosen by Jennifer Lee Johnson and Don Moss, both graduates of Brigham Young University.
She is the daughter of Mr. and Mrs. George E. Johnson of Sunnyside. The parents of the bridegroom-to-be are Mr. and Mrs. Richard Moss of Richfield, Utah.
The couple will exchange their wedding vows at the LDS Temple in Salt Lake City, Utah in a 9 a.m. ceremony.
The bride-elect attended Sunnyside High School. She went on to graduate from Brigham Young University. Now a resident of Provo, Utah, she is currently employed as an elementary school teacher.
Her fiance, a graduate of Richfield High School in Utah, is presently employed as a certified public accountant by the state of Utah.