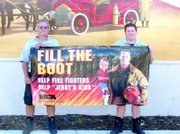 Don't be surprised to see the intersection at Seventh Street and Edison Avenue near the post office clogged on Friday. The congestion won't be a bad thing, as members of the Sunnyside Fire Department will be out for their annual Fill the Boot campaign to benefit the Muscular Dystrophy Association (MDA).
About a half-dozen firemen and other volunteers will be manning the boots this Friday from 8 a.m. to 4 p.m. in hopes that the community will support the fire department's annual MDA fund-raising efforts.
"The money stays fairly local," said Sunnyside Firefighter Josh Roe, who is heading up the Fill the Boot campaign.
The Fill the Boot campaign involves firefighters collecting money from motorists who are willing to donate a few dollars. The money can easily be tossed in a boot that the firemen will be holding as cars drive by, said Roe.
The Sunnyside Fire Department has been holding the Fill the Boot MDA fund-raising drive since 1994. Since that time, the local fire department has raised $18,803 to benefit those associated with MDA in the local area.
Roe has an ambitious goal this year of raising $3,500. Roe said he would like to top the 2002 figure of $3,182 that was raised, which is an all-time best by the Sunnyside department for the Fill the Boot campaign. Roe and long-time Sunnyside Firefighter Bob Johnson humorously recounted how the Fill the Boot program has grown over the years. The very first year, the fire department raised $137.
Roe encourages people to donate generously to the Fill the Boot campaign on Friday. He said it provides those stricken with Muscular Dystrophy money for a variety of different needs. Roe said he knows of one individual locally who was able to have a new wheelchair purchased because of the Sunnyside MDA fund-raising efforts.
"We have seen what it has done," added Johnson about where the money raised from the local Fill the Boot campaign has gone.
The money raised from the Fill the Boot campaign is taken to Yakima Federal Savings and Loan Bank in Sunnyside, where the money is placed into the fire department's union bank account. The bank then cuts a check directly to the local MDA offices, where the money stays to benefit those stricken with muscular dystrophy in the area, said Roe.
Both Roe and Johnson encourage those who might not be able to contribute to the Fill the Boot campaign on Friday to do so locally during the annual Jerry Lewis Telethon on Labor Day weekend.