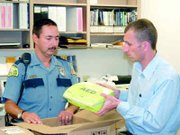 Officers from the Sunnyside Police Department are often the first to arrive on an emergency scene. And more often than not their first actions play a huge part in the outcome of what will happen to an injured person.
Through the efforts of Rado Harrington, who oversees the Sunnyside Economic Development Association and the Sunnyside Chamber of Commerce, the police department was able to obtain three automated external defibrillators (AED). These machines assist in reviving people suffering from sudden cardiac arrest.
"They are very simple to use," said Harrington.
Harrington knows first-hand the importance of AED machines. For nearly six years, he was involved with teaching emergency medical training, including CPR, to the public while volunteering his time at Kennewick General Hospital.
One of Harrington's first goals when he came to Sunnyside last year was to provide the police department with the AED machines.
"If they are equipped with the right tools, they can save lives," said Harrington of the police officers.
The way the AED machines work is that they provide an electric shock to a person who is suffering from sudden cardiac arrest. The shock, which comes from a pair of electrodes attached to the machine, are designed to try and reestablish an individual's regular heart rhythms.
"This (AED) enables your heart to be stopped and shocked," said Harrington.
During a meeting of the Benton-Franklin County Emergency Medical Providers, Harrington came across an opportunity to secure for Sunnyside a few of the AED machines. Harrington went to work on developing the grant for the AED machines and it recently paid off.
One of the three AED machines is scheduled to be placed in the Law and Justice Center while another two will be placed into patrol cars. Harrington will be involved with training all the officers in the department on how to use the AED machines.
Harrington said time is of the essence when dealing with cardiac arrest. He said the first two minutes are crucial in saving a person's life. With the police officers having access to the AED machines, they can use the equipment to provide crucial care while personnel from the fire department make their way to a scene to provide more detailed medical care.
Sunnyside Deputy Police Chief Phil Schenck said officers have actually run into quite a few incidents in the field where the AED machines would come in handy.
"This is a whole step above CPR," explained Schenck.
Schenck said the equipment will be very useful to officers. He is hoping to have all the officers in the department trained on how to use the AED machines within the next month.
Harrington is excited about the police department having access to the AED machines. He feels it will greatly serve the community.
"The greatest thing we can do is keep people healthy," said Harrington.