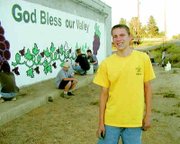 Not long after Sunnyside teen Sterling Scott completed his mural on the side of the old Bailey Nursery building at the corner of Van Belle and Scoon roads, people started to notice the improvement.
Carl McDonald, a Van Belle Road resident, was first to compliment the young man on his efforts.
"That spot was a real eyesore," said McDonald, who has lived next to the nursery for nearly 50 years.
He said in recent years the building's surface had been transformed into a community bulletin board for area gangs.
The "grape motif is a definite improvement over the vulgar gang signs that covered the building as recently as last week, said Pat Hull. "I drive by there all the time and it is so much nicer to see the mural," she said.
Scott, the son of Phillip and Robin Scott of Van Belle Road, said he was looking for an Eagle Scout project to pursue when he decided on the mural project.
"I wanted to do something outdoors and I wanted a project that would benefit people," Scott said.
Painting over the ugly gang-related graffiti fit both of his goals. In addition, he knew it would beautify a site his family passes by daily.
Scott enlisted his family and a few members of his Boy Scout troop #635, which is sponsored by the Sunnyside Church of Latter-day Saints, for the project.
Scott said he used an overhead projector to trace the mural outline on the wall. He plans to have the majority of the mural completed by the end of the week.
"I'd like to add a plastic coating material to protect the mural from future graffiti," he said. "But the material is expensive.
"I'm trying to raise money for that, but I don't know if I'll be able to raise enough," he said.
Scott expects to expand the grape mural at the west end of the building before calling his project complete.
Tuesday, Sterling Scott worked to complete this mural he designed to cover a paint spattered wall on the old Bailey Nursery building located at the corner of Van Belle and Scoon roads.