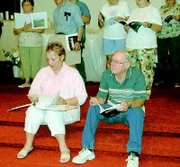 What could be more fun than playing with a bunch of little children? Pretending you are the little kid! And that is just what the Over the Hill Senior Theatrical cast of "Annie" plans to do for the next couple of months.
The company will present the popular musical, based on a 1930s comic strip, as a pre-holiday treat in November. Production dates are Nov. 12, 13, 18, 19 and 20. Show times are 7 p.m. with two Sunday matinees at 2 p.m. All performances will be held at the Sunnyside High School auditorium, according to Annie producer Lynn Hewitt of Prosser.
Led by their Annie, played by Sheila Hazzard of Sunnyside, the cast, all over the age of 45, is now in rehearsals twice a week at the Sunnyside Grace Brethren Church.
Chosen to play the millionaire "Daddy" Warbucks, who takes in the orphan Annie, is Pastor Ron Jetter of Sunnyside.
Rounding out the leads are June Sanderson of Sunnyside as the orphan-hating Miss Hannigan and Julie Trumble of Prosser is cast as Warbucks, right hand woman, Grace Farrell. Playing the part of Sandy the dog is Bob Taft of Prosser.
Cast as Annie's orphan friends Molly, Kate, Pepper and July are Sandy Gates of Grandview, Marvella Grady of Sunnyside, Betty Minnich of Grandview, Joyce Taylor and Lucille Rohman, both of Sunnyside.
Playing bad guy Rooster is Lloyd Hazzard of Sunnyside and Barb Davis of Bickleton has been cast as Rooster's not-so-bright girlfriend, Lily.
Don Hughes of Sunnyside will play the part of President Franklin D. Roosevelt and the various other members of the cast are held by members of the chorus. In the chorus are Mike Reynolds, Ramona Niccolson, Kathy Jones, Carol Goth, Jim Goth, Bob Lillie, Diane Lillie, JoAnn Taft, Bob Taft, John Baldridge, Dan Santos, Ray Minnich, Rudy Slupsky, Julia Hart, Dee Sparrow, Susan Webber and Charlene Maling.
"But we still have a few bit parts to fill and we could use a larger chorus," said director Karen Santos of Sunnyside.
She encourages those interested to contact her at 837-3151.
Hewitt said more volunteers are also needed to work back stage on the production.
For more information about backstage opportunities call Hewitt at 786-3144.