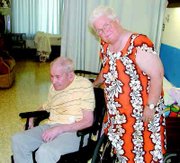 Helping her brother-in-law Herbert Dale Hendricks during meal times brings Mabel Hendricks of Sunnyside into contact with the staff at Sunnyside Hillcrest Manor and Rehabilitation Center on a daily basis.
"After a while you start to notice things," Hendricks said of her visits, which span more than 20 years.
"If I hadn't been coming here nearly every day visiting one friend or another, I might not have realized all the changes which have taken place here," she admits.
"And, there have been so many changes to the facility," Hendricks said, who is full of praise for the Otis Avenue facility.
Hendricks is quick to give most of her compliments to Hillcrest Manor Administrator Mary Arthur. "I'm so proud of Mary," said Hendricks.
"She has done so much to upgrade and change the face of this place," she added.
"When I first started visiting friends here the place always smelled bad and there were always tubs of dirty laundry in the halls," Hendricks recalled
But through the years that has changed dramatically. Not only has the nursing home smell gone away, but the attitude of staff has changed, said Hendricks.
"The staff doesn't seem as rushed and they do take more time with residents," she added. But those have not been the only changes at the 66-bed facility, she added.
Four years ago, Hillcrest Manor changed from the traditional nursing home setting to what is called the Eden concept. The new direction allows the residents to live in what proponents call a home-like setting. The halls are now filled with more laughter and even the chirping of birds. The halls of the facility no longer have an institutional look, but are filled with paintings, benches and easy chairs, where residents can sit and visit their friends and families.
Last year, the Sunnyside facility received national approval for the Eden concept. Later this year, the Sunnyside center will be the focus of a national program focused on elder care and the use of the Eden concept, said Arthur.
Arthur said she has been in communication with Seattle television producer Sheila Mullen of station KCTS, who is working on the project.
"Our facility was recommended to Mullen as a subject by Qualis, a national quality control management agency," Arthur explained.
"Mullen will be on site interviewing and filming residents later this month," Arthur said.
The national attention follows yet another perfect state licensing survey of nursing and facility management, Arthur added.
"We just received word that we have received our third perfect survey in four years, "Arthur said. "I'll wager no other facility like ours can boast that," she said.
Meanwhile, Hendricks' comfort level and appreciation of the facility continues to grow as she sits with her 86-year-old brother-in-law.
"I come to keep him company and to make sure he eats," she said. "While he naps, I wander around a bit, visiting other residents," Hendricks explained.
In fact, Hendricks admits her appreciation of Hillcrest is such that she is making plans to one day to also be a resident.
"But not for a long while," she smiled. "I'm looking forward to moving in when it is time," she added.
"I know they will take good care of me here."