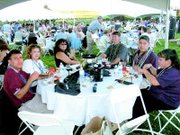 PROSSER - Jazz music will reign supreme during this year's Prosser Memorial Hospital Foundation's "A Night Out," hosted by Destiny Ridge Vineyards.
The event, set to take place Saturday, Sept. 3, at the home of Bud and Patsy Mercer, serves as a fund-raiser for the Prosser Memorial Hospital Foundation. According to Fred Lamb, who works for Foundation, last year $159,000 was raised at the event for the hospital. He said a portion of the money went to establish the Karen Mercer Andreasen Women's Health Fund.
Lamb said the newly established fund then helped to purchase a piece of equipment for the hospital that helps in the early detection of breast cancer.
But Prosser Memorial Hospital isn't the only organization that will benefit from the fund-raiser, which includes a silent auction, dinner and dancing.
Lamb explained that every year A Night Out reaches out to other organizations in the community. He said this year funds will also be raised for the Lower Valley Pregnancy Center, Make the Dash Count Foundation, Walter Clore Wine and Culinary Center and Crow Butte Park.
The event includes a little something for everyone. Lamb said A Night Out starts at 4 p.m. with golf games. He said people will have a chance to compete for prizes in a putting contest and a chipping contest.
Following the golf contests people will have a chance to take part in a silent auction. Lamb said it's the proceeds from the silent auction that will go to the Lower Valley Pregnancy Center.
As participants peruse the silent auction items representatives from 15 wineries and two micro-breweries will be offering wine tasting. Wineries that will be on hand include Coyote Canyon Winery, Hinzerling Winery, Kestrel Vintners, Terra Blanca and Piety Flats Winery. The micro-brews will be provided by Snipes Mountain Brewery and Whitstran Brewery.
Lamb said it's the proceeds from the wine tasting that will be donated to the Walter Clore Wine and Culinary Center and Crow Butte Park.
The evening will continue with a steak, lobster and wine dinner. Lamb said during the dinner Private Reserve, a vintage-style jazz band, will help set the mood.
At 7:30 p.m. the live auction will begin with the help of auctioneer John Top. Lamb said items to be auctioned off include vacation packages, signed sports memorabilia and exclusive wine country experiences.
After the auction everyone will move to the dance floor. Lamb said the dance is set to continue until midnight.
Tickets for the event are $100 per person, and Lamb said attendance is limited to 500 people. He added that at this point there are fewer than 50 tickets that remain available for A Night Out.
To purchase tickets for A Night Out call (509) 788-6042, and for more information about the event call (509) 788-6030.