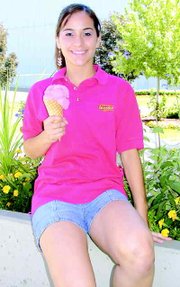 Serving up ice cream treats, creating deli-style sandwiches and answering hundreds of Yakima Valley tourists' questions has kept Kerri Urrutia busy this summer.
The 16-year-old has spent her summer working part-time at the Sunnyside Dairy Fair deli and gift store, located inside the Darigold Cheese Plant, just off Interstate 82.
"It's a lot of fun and I've gotten to meet a lot of people, " she said of her summer employment.
But dishing up delicious ice great is not the only task the dark-haired Urrutia has set for herself during the past few months.
Urrutia is one of six Sunnyside girls seeking the title of 2005-06 Miss Sunnyside. She will be competing for the crown and scholarships during the Miss Sunnyside Pageant to be held Saturday, Sept. 17, at the Sunnyside High School auditorium. The pageant is a part of the annual Sunnyside Sunshine Days celebration set for Sept. 16, 17 and 18.
It's a pageant Urrutia is eagerly anticipating. After all, she has her family honor to uphold.
Urrutia, who will be a junior at Sunnyside High School this year, said she wants to follow in her big sister Jenna Urrutia's footsteps.
"Jenna was on the Miss Sunnyside Court a few years ago," said Urrutia.
"She made it look like so much fun, that I decided to try out to be a member of the court," the younger Urrutia explained.
While Urrutia's older sister was on the court, she watched as her sister became more involved in community activities and events.
"I decided I also wanted to be more involved and have the opportunity to meet more people," she explained.
But, it's not like Urrutia isn't already very involved in her community. The athletic, young woman is a member of the Sunnyside High School basketball team, Links Crew, a high school mentoring program for underclassmen, and Pep Club. She is also active in her church as a member of the praise band and as a youth leader.
In addition, this year Urrutia will begin attending the Running Start program on the Yakima Valley Community College Grandview campus. Urrutia said she is anxious to get a headstart on her college education.
"I want to study pediatric medicine in college," she said.
Her decision to pursue a career in medicine is based on her concern about fellow teens and their problems with drug, alcohol and pregnancy.
"I want to help keep teens away from those dangers," she said.
But Urrutia is also concerned about the devastation of cancer on its victims. For the past couple of years she has volunteered her time to raise money and take part in the Lower Valley American Cancer Society Relay for Life, held each May.
In fact, if selected as the 2005-06 Miss Sunnyside, Urrutia plans to adopt the American Cancer Society as her community service project.
"Cancer affects so many people's lives," she said, adding that recently one of her teachers told her that four of her students were battling cancers of some type.
"It's a disease that hits home in a lot of people's lives," Urrutia said.
Urrutia is the daughter of Steve and Julie Urrutia of Sunnyside. She is being sponsored in the pageant by National Gas Company and Fashion Corner.