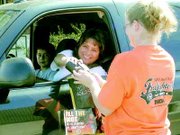 Rene J. Ramos, 32, will face a felony charge of murder in the second degree in Yakima County Superior Court when his case goes to trial on Aug. 29.
Charges stem from the July 3 death of Idise Irene Holland, 73, of Mt. Vernon, who was found stabbed to death in a Sunnyside motel.
According to the Yakima County Prosecuting Attorney's office, murder II carries a maximum life imprisonment term and is a class A felony charge given in cases where a murder occurred without premeditation, but a deadly weapon other than a gun was used.
Ramos is still being held in Yakima County Jail on a $1 million bond.
Ramos, who evaded police for several days following the stabbing, surrendered himself to Sunnyside police on July 7.
According to the Yakima County coroner's report, Holland died as a result of a stab wound to her neck. She was discovered dead at the motel, where both Ramos and she had been staying for the past several weeks prior to the incident, according to a Sunnyside police report.