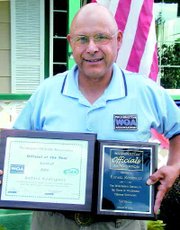 Lifelong Sunnyside resident Rafael "Ralph" Rodriguez was named Washington state's fastpitch official of the year in ceremonies on Saturday, Aug. 20, at the Yakima Convention Center.
Rodriguez, a teacher at PRIDE High School, was nominated for the award by Dick Eglet, regional executive for the Washington Officials Association (WOA).
Eglet assigns a total of 85 baseball and softball umpires in a region from Wenatchee to the Tri-Cities.
"He's put in a good number of years and he's a good official," Eglet said of Rodriguez, who is beginning his 30th year as an official and is also a trainer for other officials.
Though his selection as the best in the state came in fastpitch softball, the 57-year-old Rodriguez is a three-season official. He has officiated high school basketball and continues to work volleyball games. In fact, you'll see him in the WOA official blue and white this coming season. His previous volleyball experience includes one season officiating for the Pac-10.
Rodriguez said fastpitch is his favorite sport to officiate because, "it's on a smaller field and you have to make calls quicker." A career highlight for him came just this past Spring when he was plate umpire for the state 4A fastpitch final played in Tacoma.
"Just being selected was an honor because most of the officials are from the west side," Rodriquez recalled.
He made the most of his opportunity that day. "It was a culmination of all the experiences I've had over the years," Rodriguez said. "It all came together with the right calls and decisions."
Making the "right calls" doesn't happen by accident as Rodriguez said he works hard to be fair and impartial. "I don't even remember who the two teams were in the 4A final," he chuckled.
He credits the local WOA region for much of his success. "I work with a great association," Rodriguez said. "It's a great group and they're very supportive."
Title IX was praised by Rodriguez, who started his officiating career just as the national movement in girls' sports began gaining momentum.
He said a motivation for getting involved as an official was to be a role model for Hispanic youth, "I wanted to make a difference."
Rodriguez and wife Lynette have six children and he noted it is young people who keep the game fresh for him.
"I just love being with the kids," he said with a smile. "I love seeing a 12-year-old have that surprised look when they catch a ball or smile when they make a base hit."
Not only did the WOA recognize Rodriguez as the state's fastpitch official of the year, he also received a meritorious service award for more than 15 years as an official.
Eglet said Jeff Aguilar and Alonzo Patton, both of Grandview, also received meritorious awards Saturday.
As for Rodriguez, he is looking to the future and returning to the volleyball sidelines this fall, "My goal is for the players to have the feeling that when I go onto the court they will know they're going to get a professional and fair calls."
More like this story