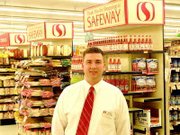 Some who have walked into the Sunnyside Safeway store may have noticed a new face. That face belongs to the new store manager, Ryan Helton.
Helton came aboard as manager of the Sunnyside Safeway store last week. Helton, 28, was an assistant manager for one year at a Safeway store in North Bend before taking on his first head manager's position here in Sunnyside.
"I am just glad to be here," said Helton. "I am real excited."
Helton has 13 years of experience in the grocery business, seven of which has been spent working for Safeway.
Helton is no stranger to the area. He lived in Yakima for three years when he was younger, before his family moved to the west side of the state.
"I heard lots of good things about the Sunnyside area," said Helton. "It has definitely been true so far."
Adjusting to the role of store manager is something Helton feels will come easy.
"Being a store manager is not much different than being an assistant manager," said Helton. "Every day is unique."
Through his past experiences and taking advantage of the management training program Safeway offers, Helton feels he is ready to run his own store. Helton said he wants to make the work atmosphere enjoyable for his employees.
"If they have fun and come to work, then the production and customer service will come with it," said Helton.
One aspect of working for Safeway that has impressed Helton is how important customer service is. Helton said he personally never wants to see a customer leave the store who isn't satisfied with their shopping experience.
"I want it to be a store that serves the community and takes care of its customers," said Helton.
In his spare time, Helton enjoys playing softball and loves going to sporting events, such as Seattle Seahawks and Seattle Supersonic games. Helton said he is hoping to still be able to make it over the other side of the mountains to take in a game now and then.
While he is still new to the area, Helton said he looks forward to coming to work every day and meeting the people who shop at Safeway.
"Everyone has just been real receiving," said Helton.