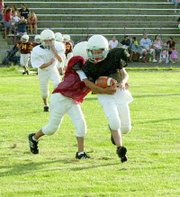 GRANDVIEW - No football team shows everything it has at a pre-season scrimmage. And neither of the Sunnyside Grid Kid football teams proved to be the exception this past Friday night. But it was nice, felt the local coaches, for the football players to get out and knock someone around.
"I think it was a really good scrimmage for our kids," said Max Saldana, who oversees the Sunnyside Grid Kid football program and coaches the 'A' squad.
Sunnyside took part in a three-team scrimmage under the lights at the Grandview High School football field Friday night. The other teams at the scrimmage included host Grandview and Zillah.
"Our kids got woke up," said Saldana.
Saldana said his team looked strong on offense running the ball up the middle. Saldana said he felt his line was effective in opening up the middle of the field for the running game. But like a true coach, Saldana said his players didn't show all that they have in their arsenal at Friday night's scrimmage.
On the other side of the ball, Saldana felt his defense did well in clogging up the middle of the field, stopping teams from moving the ball on the ground.
Saldana said Sunnyside had its best outing at the scrimmage against Zillah. Saldana said Zillah has some tall, good athletes who his team played well against.
Saldana said he had all of the Sunnyside players wear white shirts without any numbers, so it made it difficult for other teams to identify who to key on.
Saldana said he was glad that Grandview invited Sunnyside to be part of the scrimmage and he hopes Grandview continues to hold and invite Sunnyside to the season-opening event for years to come.
Saldana is expecting a good season from his 'A' squad. A year after fielding a squad that had just more than a dozen players, Saldana has plenty of talent to choose from this year. The Sunnyside 'A' squad has 32 players, an all-time high for the local team, said Saldana. Saldana said it is just a matter of putting all the right pieces together for the 'A' squad to do some really special things this year.
Sunnyside 'B' squad coach Curtis Graff was pleased overall with the effort of his players.
"There is room for improvement," said Graff. "This always helps us when we have a scrimmage."
Graff said Friday's scrimmage gave his team a chance to work on developing some plays and getting used to what it is like on the field.
"We didn't show them a lot," said Graff. "We have a lot more weapons than they saw."
Graff was particularly pleased with the efforts of his defense.
"Our defense looked good," said Graff.
Graff said his defense did a nice job of stopping the run at the line of scrimmage.
One area the 'B' squad is going to have to work on is improving the efforts of the offense line. Graff said his O line had a few breakdowns that the players will have to work on.
Graff is optimistic about his team this year. He said the offense looks good. Graff expects the running game to come around early this season.
Graff is looking to take his 'B' squad back to the playoffs this year. But the coach will have to do so with a relatively new group of faces. Graff has 10 returning players off last year's team. The other 17 players on this year's squad are new to the program.
"We will be in the hunt (for the playoffs)," said Graff.
Both Sunnyside Grid Kid football programs will be in action this Saturday in their regular season openers. Both Sunnyside teams will find out later this week who they play on Saturday. All games this season are being played at Wapato High School.