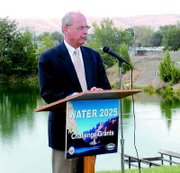 With a projected savings of more than 130 million gallons of water per year, the Sunnyside Valley Irrigation District received $300,000 in grant money towards pipe replacement and water measurement equipment.
The funds, awarded through the Water 2025 Challenge Grant Program, were announced Monday, Aug. 22, during a press conference at Sarg Hubbard Park in Yakima.
"It's work that's needed to be done for a while. We'll be able to divert less water and use it more effectively," said Jim Trull, Sunnyside Valley Irrigation District Manager.
He explained the grant, matched by assessments from irrigation users, will enable the district to have an enclosed system to reduce evaporation and seepage. That, in turn, means the district's water requirement will be reduced by 400-acre feet of water per year.
Congressman Doc Hastings was on hand for the grant ceremony. "I think it's important that when you live in a relatively dry area like we do that any means to conserve resources is good policy," he said.
Sunnyside is one of three Yakima Valley irrigation districts - and one of just four in the state - to receive funds in 2005 through the matching grant program.
The others in the valley are Roza and Selah-Moxee, which will also receive $300,000 each in grant funds. An irrigation district in Spokane is the fourth recipient.
"These exemplify the kind of innovations that Water 2025 is all about," observed the nation's Bureau of Reclamation Commissioner John Keys. "These are local, collaborative projects that will create more efficient water supplies."
Keys said the Water 2025 Challenge Grant program awarded $4.5 million in grants to irrigation districts last year and this year will distribute $10 million. "It helps our farms in the west maintain their water supply," said Keys, who traveled from Washington D.C. for Monday's announcement.
The Water 2025 Challenge Grant awards, administered by Reclamation, provide western irrigation districts with matching funds to support better use of existing water supplies through water conservation, efficiency and water market projects.
Trull said Sunnyside will begin work on its two-year project "...as soon as the water is turned off."
He noted this particular project will be focused near the end of the irrigation system in the Prosser area. Trull indicated he will seek additional Challenge Grant funds for future improvements within the Sunnyside Valley Irrigation District.
John Fannin/Daily Sun News
Congressman Doc Hastings, right, and John Keys of the national Bureau of Reclamation visit prior to Monday's ceremony announcing $300,000 for improvements to the Sunnyside Valley Irrigation District.