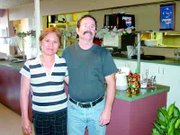 Thai cooking comes naturally to SomKaew Harden.
The Thailand native, who immigrated to the United States six years ago, now has a place in which to showcase her talent for cooking her childhood dishes, said her husband, Jerry Harden of Pasco.
The couple just purchased Jasmine Thai Cuisine in the Sunnyside Mini Mall, 214 S. Sixth St.
"Tim," as her husband calls her, is very excited to be cooking in her own restaurant, Harden said.
"She has always wanted her own restaurant and when this opportunity came up, she leaped at it," he explained.
The Hardens took over management of the popular Jasmine Thai Cuisine the first of August. The Pasco couple purchased the Asian restaurant from Loc and Pat Jensen of Yakima, founders of Sunnyside's only Thai dining spot.
The Hardens said they expect to continue offering lunch specials and a buffet, but plan to expand their hours of operation.
"We plan to be open from 10 a.m. to 9:30 p.m. Monday through Friday," Harden said.
The couple will also be open 11 a.m. to 9:30 p.m. on Saturdays. He said in the future he'd like to add Friday and Saturday night entertainment. "We will also soon add beer and wine to our menu," he added.
The couple had an opportunity to show off a bit during last Thursday's Sunnyside Chamber of Commerce business after-hours social held at the Mini Mall. The special event to show off the businesses located in the Mini Mall gave the Hardens an opportunity to exhibit their style of Thai cooking.
"Tim's dishes are spicier and are made in a more traditional manner," he explained.
The featured chef also brings a professional restaurant cooking experience to her new venture, said her husband.
"She worked at Thai Ginger in Bellevue and at Thai Spice in Kennewick," he said.
"It has been her dream to own her own restaurant for many years," he added. "She likes the idea of being her own boss," he added.
"We are hoping that in addition to advertising, the word of mouth advertising will bring in customers, " he added.
"We encourage Sunnyside to check us out," Harden added.