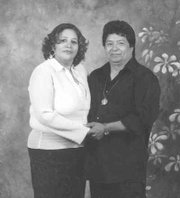 Arnold and Francis L. Munoz will soon be celebrating their 30th anniversary.
The couple was married on Sept. 13, 1975 in Sunnyside. They will celebrate their anniversary on Sept. 17, 2005 with a party held at 5 p.m. at Glenwood Square Mall in Yakima. The party is being hosted by the couple's children and their spouses.
Both Mr. and Mrs. Munoz have lived in the area since 1968, and together they have four children, Junior Munoz of Grandview, and Adam, Anthony and Ashley Munoz of Yakima. The couple also has seven grandchildren.
Mr. Munoz works at the Yakima airport, and Mrs. Munoz is the owner of Pancha's Place and Espresso at the airport in Yakima.