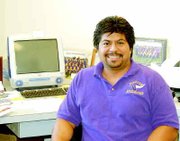 MABTON - After graduating from Sunnyside High School in 1982, Dave Mendoza went to Washington State University to study international business. Boy, did he end up doing something completely different.
Mendoza, who turns 41 on Aug. 23, is the after-school programs coordinator for the Mabton School District. He also serves in an advisor's role for the Achievers Scholarship grants, sponsored by the Bill and Melinda Gates Foundation.
Mendoza lives in Sunnyside with his wife, Olivia, and their three children, Janelle, 14; Jacob, 7; and Jolissa, 5.
Mendoza brings with him to Mabton a variety of different work experience. For six years he managed a local office for a company called Labor Ready. Mendoza also served as manager of the Valley Racquet and Fitness Club in Sunnyside. Mendoza also has experience working for S.L. Start & Associates.
A few years back, Mendoza was hired as a site director for the GEAR-UP after-school program in Sunnyside. But it was an offer from an old friend, Robert Morales, and former Mabton School District Superintendent Kevin Chase in 2000 that ended up resulting in Mendoza doing what he is now. Morales approached Mendoza about taking on the job he has now. Mendoza said he jumped at the opportunity and has never looked back.
"When I saw what they were doing here I didn't even think twice about being part of this team," said Mendoza. "I am very happy working here in Mabton."
Mendoza credits both Chase and Morales with providing him a lot of support and serving as mentors as he took on a new role.
It is a fun job, said Mendoza. Mendoza said he enjoys being able to work with students to get them geared to thinking about college while exposing them to different activities. Mendoza said he enjoys his job because it is similar to the role of a teacher, but he doesn't have to take on the responsibility of a classroom.
Mendoza's job even keeps him busy during the summer months. This past summer, Mendoza has been overseeing a program called School Rocks, which worked with 28 middle school students teaching them about the different sciences.
Serving as advisor for the Achiever's Scholarship program is something Mendoza enjoys doing. Mendoza said he enjoys when students realize they can go to college. They see the success stories of some past Mabton students and realize that just because they are from a small town, it doesn't mean they can't have big dreams and see those through.
Mendoza, too, also plays a major role in the athletic programs at Mabton High School. For the past five years, he has been an assistant coach for both the wrestling and fastpitch softball programs at Mabton.
"I thought it was a good way to interact with the kids," said Mendoza. "I have probably learned more from them than they have from me."
Mendoza said he has always enjoyed the sport of wrestling, something which he took part in during high school.
The Mabton High School Class of 2004 bestowed a unique honor on Mendoza, as they asked him to be the class speaker at graduation.
"It was a humbling experience," said Mendoza. "You don't realize what impact you have on the kids until they ask you to do something like that. It was one of those moments."
Mendoza said he feels that the students understand him and the fact that he really cares about what happens to them.
"We would never want to set them up for any kind of failure," said Mendoza.
Mendoza is an avid fisherman and hunter, but now he dedicates his time to watching his families' activities.
"It is important for me to watch my kids in their activities," said Mendoza.
The best part of his job has been the relationships he has built with students.
"I haven't met a student yet where it feels like we are wasting our time," said Mendoza.
"I am perfectly happy with the job I am doing here," he said. "It just feels right. It feels good."