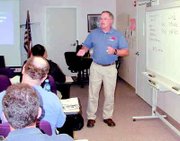 Who helps those who help us? Who helps a firefighter deal with the trauma of seeing a person tragically die before their very eyes? Who helps a police officer deal with the horrors that can sometimes be found at a crime scene? Who helps the nurse or doctor at the hospital sort through the death and injuries they see on a daily basis?
For now, the closest people to help local emergency personnel have been in the Tri-Cities. But local officials are looking to change that, as they are in the beginning stages of forming a Critical Incident Stress Management (CISM) team in the Lower Valley.
A CISM team is designed to assist first responders, such as police, fire and emergency workers in dealing with stress after a critical incident occurs.
"There is quite a bit of history," said Sunnyside Community Hospital Community Relations and Director of Physician Recruitment Tom Lathen.
Lathen said the idea of forming a CISM team in the Lower Valley first came about a few years ago when a hospital employee was murdered.
"That just hit everybody like a ton of bricks," said Lathen.
To help hospital staff deal with the situation, a CISM representative from the Tri-Cities was called in. Lathen said the assistance from the Tri-Cities responder didn't go too well, leading local representatives to the idea of forming their own CISM team.
Sunnyside Community Hospital's Sandra Linde and local grant writer Sue Jetter secured money to fund the training to form a local CISM team.
That training began this past Monday and over a two-day, 14-hour period, 25 representatives from the police, fire and hospital took part in a training conducted by Richland Police Captain Mike Cobb to learn about the inner workings of a CISM team. Lathen said there were also several local pastors that took part in the training.
Lathen said the training is designed to show those involved with the team how to address stressful situations.
"It is all volunteer work," said Lathen of the CISM team. "It is designed as something to serve the community."
Lathen was quick to explain that what a CISM team member does is not therapy.
"It is sort of like first aid," said Lathen. "It is to help people learn what to do to get back in the game after something (significant) happened."
Lathen said the training helps CISM team members take common sense approaches to assisting people in dealing with problems. As an example, Lathen said a CISM team member might say they will check up on someone in a few days after talking with them. They might encourage them to get more sleep or limit their caffeine.
"It isn't therapy," he reiterated.
The CISM team that attended the training will hold another meeting in September to further organize the group. Lathen said it takes about six to eight months to form and train a CISM team.
"This is a really good thing happening in our community," said Lathen.
More like this story