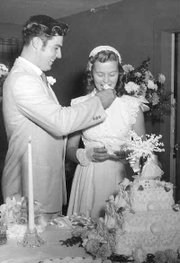 When I recently crossed the state line back into Washington I wanted to stop the car and kiss the ground. Luckily, for my husband's sake, I was able to restrain myself.
My husband and I just returned from a week-long vacation to San Francisco. And even though we had a great time visiting the Golden State, it also felt great to be home.
Our adventure started on Aug. 13. We got our bags packed and loaded up the car. With maps in hand and a route planned out we were ready to hit the open road.
Before I go much further let me take a minute to let everyone in on the fact that I did not choose to take a road trip all the way to central California. Instead, it was my husband's idea to hop in the car and drive to the City by the Bay. I would have much rather simply hopped in an airplane and be at the final destination in just a matter of a few hours.
Despite not being sure about taking a two-day road trip to San Francisco, looking back it wasn't too bad. I got to see places I would have never seen before, including some gorgeous beaches and rolling farm land, and it made me really appreciate our final destinations, be it San Francisco or Grandview.
When we first drove into San Francisco, coming in over the Golden Gate bridge, I was exhilarated. But after the magic of driving over the world-famous bridge, we found ourselves being dropped into the middle of busy San Francisco traffic. I instantly had to go into navigator mode, trying to figure out where exactly we were and how to get to our hotel.
I will never forget my husband driving down the road toward our hotel, then all of sudden he looked at me and asked what he was supposed to do about the cable car that was coming up behind him. We were on such a narrow street, and not knowing what to do, we did what anyone would do. We pretended we didn't see the cable car coming up behind us while ringing its bell.
Okay, maybe ignoring something isn't always the best way to deal with things, especially when you're talking about a large cable car filled with 50 or so people. But in our case, it did the trick.
Another interesting moment in our vacation came on the second day we were in San Francisco. My husband and I made our way to famous Fisherman's Wharf, and decided while we were down there we would buy our tickets for the Alcatraz tour. We stood in line, made our way to the cashier and were told that the tours were all sold out until Thursday. Thursday is the day my husband and I would be leaving Monterey for home.
At that moment, my husband looked at me and reminded me of a conversation we had about a month earlier. Looking back, he had been sitting at our computer at home with the Alcatraz website open. He told me he wanted to buy our tickets right then and was asking me what day I wanted to visit The Rock.
Being such a good decision maker, I told him there was no way to know when we were going to want to take the tour until we got to San Francisco.
With that comment...my husband closed the website and didn't buy tickets in advance.
He was sure to remind me of this as we had to settle for a bay cruise that only circled the island prison.
Although we didn't get to visit that famous landmark, we did get to visit a pretty interesting landmark eatery - Lefty O'Doul's.
It was located just around the corner from our hotel and was really touted as more of an Irish pub. My husband and I decided to have dinner there on our second night in San Francisco. We had already resigned ourselves to eating your typical greasy bar food.
But when we walked through the doors we were greeted by a rustic wooden pub interior, that included a long bar, a baby grand piano and a buffet line.
We ended up eating a turkey dinner with all the trimmings, listening to a piano player crank out song requests from the audience while we drank a pint of beer that had been brewed right there in the City by the Bay.
It was a very different experience than we expected and one I'm sure we won't soon forget.
In the end, after seeing all of the sights in San Francisco and after driving further south to visit Monterey, the drive home from California seemed like a long one. We shot straight up I-5 until hitting Highway 97, which brought us home. Although the landscape seems to get a little starker as you drive north, getting home from a vacation can often be the best part of traveling.
More like this story