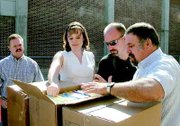 by John Fannin
It's back to school not only for Sunnyside and Mabton students, but for Lower Valley Credit Union as well, which this week distributed $12,000 worth of supplies to schools throughout the Yakima Valley.
"This is the first year we've been able to help Lower Valley students," said Phil Robillard, the credit union's senior loan officer.
In addition to Sunnyside and Mabton, other Lower Valley school districts receiving a helping hand this year are Granger, Harrah, Toppenish and Wapato.
This is the 14th school year that Lower Valley and nine other Yakima County credit unions have brought supplies to students in need. The program has in the past purchased enough supplies to fill 1,000 student folders each year with items including pencils, paper, dividers and glue sticks.
For the 2005-06 school year, an additional 3,000 folders were filled due to grants from Yakama Nation Legends Casino and Washington Credit Union Foundation.
"We help the Yakima schools so it's great to have the funds to help the Lower Valley as well," Robillard said Wednesday as he helped unload a pick-up truck full of supplies for the Sunnyside School District.
"We have a lot of kids that don't have all the school supplies they need," observed Julie Kaplicky, Community Relations representative for Sunnyside schools. "This helps make sure they have an equal start to the school year."
Some of the 30 cases delivered to Sunnyside schools on Wednesday included 800 glue sticks - enough for 400 elementary students. Any messes caused by glue sticks can be cleaned up by another 13 cases of tissue delivered to Sunnyside.
Robillard and Jim Grubenhoff, President of Lower Valley Credit Union's Board of Directors, noted they want to see the program expand, "We're hoping to build on this year's success and do more next year."