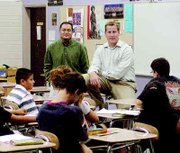 The Grizzly Success Academy at Sunnyside High School has had a successful start.
The Grizzly Success Academy is a new program at the high school that is in part designed to assist incoming freshmen with adjusting to high school life.
From Aug. 15-18, approximately 70 high school freshmen, who will be in the class of 2009, attended the academy. The academy ran from 9 a.m. to 12:15 p.m. each day. The success of the academy was celebrated at the end of the week, as the LINK Crew, another high school program designed to help freshmen, provided activities. Some of the activities included a dance and a barbecue that was attended by more than 270 freshmen students and their families.
"The goal of the Grizzly Success Academy is to improve students' academic success in high school by providing a better transition to high school through an extensive orientation and by providing an adult mentor throughout the school year," said Eric Sylling, who serves as the project director for the academy program.
Students who attended the academy had a daily opportunity to meet in homerooms. The students learned about math and English and some of the skills needed to adjust to high school. Students also learned about the Seven Habits of Highly Effective Teens, which is based on the work done by Stephen Covey, said Sylling.
At the end of the week, students were paired with an adult mentor, which is another aspect of the academy program. The adult mentor, said Sylling, will meet with the students frequently to check on their progress and address any questions or concerns.
The academy is being funded through a Small Learning Communities grant the district received from the federal government. The district worked with the Office of Secondary Education for Migrant Youth, Sunnyside's Promise, Sunnyside Community Hospital, the Office of Superintendent of Public Instruction and Sen. Patty Murray's office.
The Grizzly Success Academy was modeled after the Thunder Success Academy at Mt. Lake Terrace High School in Vancouver.
"Sunnyside High School had set a goal of having 50 students attend this first year and was excited to have 70," said Sylling. "The plan is to expand the program next year to include 200 freshman, and hopefully all freshmen by the summer of 2007."
Teachers taking part in the success academy were Troy Whittle, Sue Ellen Davis, Ryan Kannely, James Wise and high school literacy coach Heidi Hellner-Gomez, who administered the camp.