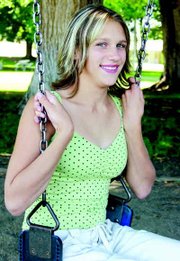 Staying physically fit is a big part of Heather Van Corbach's motivation when choosing her leisure activities.
For example, the slender 16-year-old, a member of the Sunnyside High School swim team, loves her summer job. This past summer Van Corbach worked as a full-time lifeguard at the Sunnyside Municipal Pool. In addition, she had plenty of time to exercise in the pool as a swim instructor for the Sunnyside Recreation Department swim program.
When not swimming or teaching swimming, she enjoys tennis and running to keep in shape.
As one of six Sunnyside girls seeking the title of 2005-06 Miss Sunnyside, Van Corbach is competing for the crown and scholarships being offered during the Miss Sunnyside Pageant. The pageant will be held Saturday, Sept. 17, at the Sunnyside High School auditorium. The pageant is a part of the annual Sunnyside Sunshine Days celebration set for Sept. 16, 17 and 18.
Van Corbach said she decided to seek the Miss Sunnyside crown because she knew she'd be expected to choose a community service project. With her own desire to be healthy and physically fit, it seems natural that Van Corbach would choose as her Miss Sunnyside community service project one which involves staying fit.
Van Corbach hopes to convince others that being physically fit is good for one's self-esteem. She believes she can be bring that message home to other teens.
"I think being healthy is fun and I hope to be an inspiration for those wanting to get fit," she said. She said she plans to work with such groups as Girl Scouts and the Sunnyside Recreation Department to encourage young people to join fitness programs.
"I'm pretty excited about being able to do something nice for the community if I'm selected as Miss Sunnyside, " she explained.
In addition to her aquatic activities, Van Corbach is active in Girl Scouts in her spare time. She also participates in Sunnyside High School drama department activities. She enjoys being on stage, having performed in a number of school plays. She also helped with the department's summer drama camp for children, held this past June.
"I enjoy music and play clarinet in the school band. Plus, I'm learning to play the guitar," she added.
Van Corbach, who is a junior at Sunnyside High School this year, plans to attend Central Washington University upon high school graduation. She said she is attracted to the Ellensburg campus because of its outstanding theater arts programs.
"I'm something of a drama queen," she admitted, adding she'd like a career in the theater. But she is also realistic enough to set as her second goal a career in education. "I'd like also to be a drama teacher," she said.
Van Corbach is the daughter of James and Darla Van Corbach of Sunnyside. She is being sponsored by Martin Dental Clinic and Elite Towing and Recovery of Sunnyside in this year's pageant.