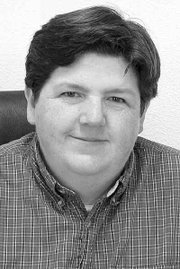 John Fannin of Cle Elum has joined the news staff of the Sunnyside Daily Sun News.
Fannin, who most recently worked at the Northern Kittitas County Tribune, brings five years of writing experience to his new position. While covering the Cle Elum-Roslyn area community, he wrote sports, city council and school board stories for the North Kittitas County weekly newspaper.
He said he came to be a reporter by accident. "I started out as stringer, covering sports for the Cle Elum newspaper, while working full-time as a banker," Fannin said.
"Within a week, I was hired full time to cover the entire community." he explained.
"I wasn't cut out to be a banker anyway," he laughed.
Fannin and his wife, Joni, of 16 years, moved to Cle Elum after serving five years in Budapest, Hungary, where they worked as missionaries helping to establish a small church.
Fannin, a graduate of Northwest College of the Bible in Portland, is originally from Ohio. The son of a minister, he grew up in Coos Bay, Ore. Following high school graduation, he attended Oregon State University for several years before deciding on earning a Bachelor's degree in sacred literature.
His stint as a missionary in Hungary in the late 1990s was not the first time Fannin had traveled to Central Europe, he said. While attending college he spent two weeks in Hungary while the country was still a member of the Central European communist bloc.
"A group of us spent two weeks distributing New Testaments to non-believers," he said.
Fannin said he is excited to be in Sunnyside and looks forward to meeting members of the community.