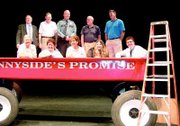 Sunnyside's Promise presented a child's toy nearly the size of a semi truck to the public during the Sunnyside School District's opening ceremonies celebrating the start of the new school year held at the Sunnyside High School auditorium yesterday (Thursday).
The red wagon, which dwarfs most average sized adults, took up the entire stage during the ceremonies. The giant, red wagon serves to magnify the commitment Sunnyside's Promise is making to the children of Sunnyside to provide them with a safe, caring environment, said Sunnyside Police Chief Ed Radder, who serves as chairman of the Sunnyside's Promise group.
He said the wagon will be used at all community events to promote Sunnyside's Promise, as it works to prove Sunnyside is a community that cares about its children.
The organization's logo is blazed across the sides of the 30-foot-long wagon, which measures over six feet tall and 8-feet wide.
The Radio Flyer style wagon was the dream of 2005 Sunnyside High School graduate Danny Mendoza, who chose the red wagon project to complete his Eagle Scout project.
Mendoza began last winter designing and organizing the project and enlisted the aid of Sunnyside High School vocational instructor Tom Dolan to fabricate the wagon.
With the help of friends and members of a high school summer welding program, Mendoza and his team spent more than 2,000 hours welding the wagon together.
Dolan, who oversaw the technical aspects of the project, said he had the cooperation of CanAm Steel, which helped with the computer design of the wagon.
"This turned out so much better than I ever dreamed," said Mendoza, who leaves this week for college at Ohio State University.
"I'm thrilled it turned out so beautiful, " he said.