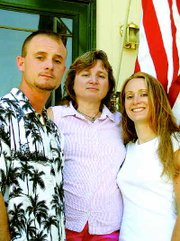 Enduring temperatures as high as 130 degrees and escaping injury, or worse, by just seconds are all in a day's work for Army Sergeant Aaron Sanders, now home on leave in Sunnyside.
But the 1995 Sunnyside High School graduate emphasizes that he is just one of 138,000 soldiers serving in Iraq. "There are that many serving now and probably again that many who have been there."
Among them are classmates Joey Carlson, now serving in Iraq, and Matt Simmons, who served in the Middle East through last year.
Sanders' two weeks home in Sunnyside come after nine months in Iraq. Upon his return to the Middle East on Aug. 29, he will serve in Iraq through October, at which time he will be stationed in Kuwait.
Before his current responsibility as a liaison between regiment and division in Belad, north of Baghdad, Sanders was a gunner on patrol.
While serving in that capacity he came within a few feet of being among the casualties from a roadside bomb.
"We made it through the area but the vehicle behind us was hit about 10 feet away," he recalls. Sanders quietly notes that while he has not lost any close friends in Iraq, "...there are men who I have worked with that have passed."
Despite the dangers, Sanders says the U.S. presence is having an impact on decreasing the level of enemy attacks.
The Belad air base where he works, for example, used to be attacked by mortar rounds "multiple times a day," according to Sanders. "Now we see them once every three or four days."
He adds, "We're a long way from being done but there are definitely some improvements."
Sanders' primary responsibility in Belad is to help process soldiers and equipment traveling to and from forward bases of operation.
"There's a lot of confusion, the more people you get in who have to be moved," he says of his job. "There are people with higher rank than me and yet I need to tell them what they have to do." Sanders notes, though, "In the end, when they're on their way, there's satisfaction in knowing we helped them along."
That satisfaction in a job well done and the camaraderie with other soldiers are some of the reasons Sanders, a 10-year Army veteran, remains in the service.
"It's something I've always wanted to do," he says of military service. Sanders' father, grandfather and great-grandfather also served.
That family military tradition is indeed strong and so are family ties as Sanders enjoys precious days in Sunnyside with mom Jenny, sisters Elizabeth Caballero and Tabitha Sanders and his nephews.
Sanders says he is also enjoying routine things here which are not always available in Iraq, such as running water, indoor plumbing and reliable electricity.
The departure date back to Iraq is fast approaching and Jenny is supporting her soldier son throughout. "I know he'll be doing what he likes to do," she says of his return to the Middle East next Monday.
She also plans to continue the best home front support possible for Sanders.
"I wear a bracelet for reminders to say prayers for him," Jenny says. "By talking to God I know he's being protected."