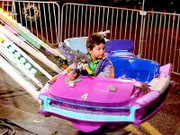 Community organizers are beginning to gear up for the 39th annual Sunnyside Sunshine Days celebration, set to be held this year Friday, Saturday and Sunday, Sept. 16-18.
As tradition dictates, the annual Miss Sunnyside Pageant will be staged Saturday evening during the community festival. And is usually the case, pageant-goers who put off to the last minute purchasing their admission tickets will most likely find themselves scrambling for a ticket again this year. That's because it's not uncommon for the pageant, staged year in and year out at the Sunnyside High School auditorium, to be sold out well in advance.
This year there are six young ladies who will vie for the 2005-06 Miss Sunnyside crown: Sherran Garcia, Dianna Mendoza, Stacey Olivarez, Kerry Urrutia, Heather Van Corbach and Corrin Veiga. The six Miss Sunnyside Court hopefuls have been working all summer long, preparing a finely tuned, choreographed pageant show that is sure to entertain all who attend. The curtain for this year's pageant is scheduled to rise at 7 p.m. Saturday evening.
Although some in the community may not be fans of the local pageant, there are very few who intentionally miss attending the annual Sunshine Days Parade. Again, as tradition dictates, this year's parade will be held Saturday morning, beginning at 10 a.m.
Because it is an election year, parade organizers are encouraging all political candidates seeking public office to take part in this year's march through town. Of course, the regular line-up of community floats, marching bands, prancing horses and mixed array of other parade entries are expected for the Sept. 17 event.
Those planning to take part in the Sunnyside parade are asked to join the parade line-up at 8 a.m. in the Sunnyside High School parking lot. Judging is scheduled to begin promptly at 8:30 a.m.
This year's parade route will be changed, say organizers. The procession is to run along Edison Avenue from the high school parking lot to Zillah Avenue, and will proceed along that street to the Sunnyside Law & Justice Center on Homer Street.
Parade applications are currently available at the Sunnyside Chamber of Commerce office.
As of yet, the Sunshine Days Parade grand marshal hasn't been chosen. Organizers encourage those who know of someone who exemplifies community spirit to nominate him or her for that honor. All nominations should be submitted to the Chamber office.
Also on the drawing board for Sunshine Days are a car show, food, street and flea market vendors, free entertainment, a carnival and free children's activities.
Local, non-profit organizations are being invited to participate in the flea market. Street vendors who want to sell their arts, crafts, food or other items at one of the downtown booths are asked to contact the Chamber office to fill out an application, as are the flea market booth operators.
The Chamber's Sunshine Days Committee is also seeking entertainers who want to showcase their talents during the three-day festival. Those interested in performing are asked to contact Chamber officials.
New to the community festival this year will be a "Kids Corner," to be located at Centennial Square. Puppet shows are scheduled from 11:30 a.m. to 3:30 p.m., as well as hands-on arts and crafts projects, science demonstrations and story-time sessions.