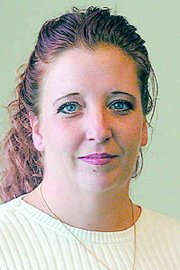 MABTON - There are two people vying for Mabton City Council position two. One candidate is political newcomer Shelley Luther-Mireles, while the other candidate is the illusive incumbent Ernesto Armendariz.
Armendariz could not be reached to comment on the upcoming political race. Repeated phone calls from Daily Sun News staff went unreturned and unanswered, and a visit to his home revealed front gates secured with chains and padlocks.
Mireles, 32, said she decided to challenge Armendariz because she wants to get more involved in the community she's lived in for the past 13 years.
Originally from Outlook, Mireles said her entire family decided this was the year they were going to get politically involved. She noted that her husband, Gabriel Mireles Jr., is running for a position on the Mabton School Board.
Mireles added that she didn't decide to run because she thinks the current council members aren't doing a good job.
"I think what they've been doing, they've been doing well," Mireles said, but added that there are still things in the community that haven't been taken care of by the council.
Mireles said one of the issues the council hasn't taken care of is the condition of the roads in Mabton.
"The roads on the north side of Mabton are pretty bad," Mireles said. She added that Mabton's water situation is something else that has plagued the city for several years.
"These are two things that need a little more attention," Mireles said.
Another issue Mireles would like to see addressed in Mabton is the lack of on-duty police officers. She said during the day there are no officers on-duty in Mabton.
"That is not good for the community," she said, noting that she understands that the city's budget is tight.