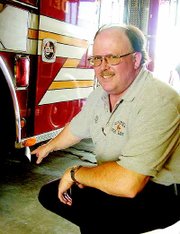 Sunnyside and Grandview firefighters will breathe easier thanks to more than $200,000 in Homeland Security grants.
The grants were announced Aug. 18, just in time for September, which is National Preparedness Month.
The Grandview Fire Department was awarded $141,855 through the nation's Department of Homeland Security in association with FEMA.
Grandview Mayor Norm Childress said the money, requiring a 5 percent match of $7,000, will enable the city's fire department to purchase a complete new set of breathing apparatus for each of its firefighters.
Known as a Self Contained Breathing Apparatus, or SCBA, Grandview's new breathing equipment will be compatible with those used by other fire departments in the Yakima Valley.
"If we're on a joint aid call and we're helping someone, our adapters will all fit with theirs," Childress explained. The reverse is also true, he added, in the event other departments come to Grandview's aid.
Captain George Saenz added that the new SCBA gear will be equipped with digital indicator lights attached to the oxygen masks so firefighters can determine their tank's oxygen level at a glance while battling smoke.
Childress indicated the Grandview City Council will consider approval of the grant monies at its next meeting on Sept. 6. The new SCBA gear will then be acquired sometime before the end of this year.
The Sunnyside Fire Department received a $72,333 Homeland Security grant through FEMA for a built-in vacuum system which will draw exhaust fumes from the department's vehicles. The city's 5 percent match for the grant will be $3,800.
"Diesel smoke will be removed directly from the engines to outside instead of being absorbed inside the building and through clothing," explained Sunnyside Fire Chief Aaron Markham.
Good thing, too, since it's not uncommon for four of the department's six rigs to be running at the same time in the station house when gearing up for training exercises, according to Captain Gene Smith.
Installing the system will entail ceiling duct work and tail pipe modifications for each of the department's six vehicles.
Smith said, when complete, the new system will have hoses connected via magnets to each truck. The hose will be withdrawn automatically when a vehicle pulls out of the station.
Markham said he hopes to get bids on the project within the next three or four weeks.
A total of $205,360,839 will be distributed through the Homeland Security program. The money is intended to help fire departments and emergency medical service providers fund training, safety outreach and equipment purchases.
"We recognize the importance of the grants to our nation's fire departments. We will continue to work closely with the fire service community to meet their needs." said Matt Mayer, a director with the office of State and Local Government Coordination and Preparedness (SLGCP).
SLGCP is the principal federal agency responsible for emergency preparedness in event of terrorism.
The grants are funded for fiscal year 2005 and fire departments have up to two years to complete their respective projects.