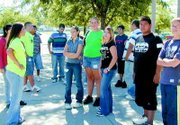 GRANDVIEW - As freshmen head back to class today, they are walking in with their heads held high. Instead of the high school being seen as a big, new place with a lot of upperclassmen, most freshman have a new outlook on things. The class of 2009 is already familiar with the layout of the school, has had a chance to meet fellow freshmen and even know an upperclassman or two.
For the first time in its history, Grandview High School implemented the Link Crew program for its incoming freshmen class. Link Crew Co-Advisor Linda Dezellem explained that the program is meant to help freshmen make a smooth transition into the high school.
"It's all about the freshmen," Dezellem said.
Last week, the entire freshmen class arrived at Grandview High School to take part in the Link Crew program. Dezellem said during the course of the day, students took part in different team building activities, took a tour of the school and had a chance to meet some upperclassmen.
According to Dezellem, the entire freshmen class was divided into small Link groups, which are led by one or two upperclassmen. Dezellem said the upperclassmen, called Link Leaders, helped lead the various activities. But the Link Leader's role didn't end when all the freshmen went home at the end of the day.
Instead, Dezellem explained that the 31 Link Leaders will continue to be in contact with their Link groups throughout the year. She said the Link Leaders are encouraged to talk to the members of their Link group, as well as leave them notes and give them encouragement as they make their way through their freshman year.
Dezellem added that during the course of the year she and co-advisor Carol Bardwell are planning to put together regular Link group activities, which will bring the whole freshmen class together with their Link leaders.
Although the program was well received, it took a lot of work to ensure Link Crew would take place at Grandview High School this year. Dezellem said she and Bardwell attended an intense three-day training on the program last March.
When they returned from the training they set to work trying to determine exactly how Link Crew would be implemented at the school. Dezellem explained that the school already does a Freshman Boot Camp, which walks students through things like registering for classes, getting their ASB cards and figuring out where they are going.
Dezellem said they didn't want Link Crew to interrupt that, so instead freshmen orientation became a two-day event this year. She said students did Link Crew one day, then went through the boot camp the next day. She added that Link Crew also chose to focus its attention on team building and spreading school spirit.
But figuring out how Link Crew would fit into the curriculum at Grandview High School was only part of the battle. Dezellem said they also had to find their Link Leaders. In order to do this, Dezellem said she and Bardwell asked teachers to nominate students they felt would make good leaders. After the nominations had been collected, Dezellem said they provided applications to anyone else who showed interest in being a part of the program.
Because of their extensive efforts to find Link Leaders, Dezellem said they were able to put together a group that represents a wide spectrum of students. She said Link Leaders include everyone from FFA to Leadership students.
But when all is said and done, Dezellem said the entire focus of the program is the freshmen.
"The freshmen are the big deal," Dezellem said.
She added that to help spark school spirit, when every freshman left Link Crew last week they received a Grandview High School t-shirt and a flyer titled, "What Every Freshman Should Know." Dezellem said the flyer included advice to the freshmen from last year's seniors.