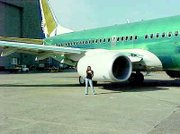 RENTON - For the past nine weeks, Maggie Ramirez has spent each day learning what it takes to construct a 737 airplane inside a large airplane hangar in the greater Puget Sound area.
The 2005 Sunnyside High School graduate worked as a summer intern for Boeing at its Renton plant through a University of Washington program for minority students.
"Most of the summer I was the only girl in rooms full of aeronautic engineers," said the petite Ramirez.
The young woman spent 40 hours a week in intense math classes when she wasn't at the Boeing plant learning how to build the massive aircraft.
"But more than that I learned what it takes to be a leader on such a large project," she said.
Ramirez said she learned of the engineering internship opportunity through the University of Washington engineering department web site. She applied on-line to the Alliances Learning and Vision of Under Represented Americans program, which she said is designed for minorities and women interested in engineering careers.
Ramirez, who plans to study industrial engineering at the University of Washington beginning in September, said she was part of a 16-person team during her summer adventure.
Ramirez said her supervisor not only allowed her the opportunity to learn about the manufacturing of airplanes, she also learned abut what she calls the softer side of engineering.
"We were encouraged to look at the big picture, focusing not just on the end result, but the cost in materials, man hours and how good leadership brings the project together or can cause its failure," she explained.
"We also focused on basic business skills through lectures and practical application," she explained.
The future college freshman also did a lot of research covering such topics as corrosion in airplanes. "We had to put together research papers filled with data and graphics supporting the research," she said.
Ramirez said she was allowed to help on the assembly of a 737 wing as part of the internship.
She said when she starts classes at the university, she will continue to take classes with some of the members of her internship team.
"We will be taking some of the same classes and workshops," she said.
Ramirez, who encourages other students interested in engineering to apply for the summer program, said she is planning to apply for the internship again next summer. "I've been asked to apply for the program each summer while I attend college," she said.
"I loved it and look forward to going back," she added.