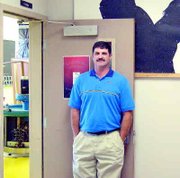 Sunnyside High School Fusion Technology (welding) teacher Tom Dolan has done plenty of interesting things in his life, but he hasn't enjoyed anything more than what he is doing now-teaching.
For the past five years, Dolan has been building up the fusion technology program, which is part of the vocational department at Sunnyside High School.
Dolan, a native of Sunnyside, has worked in construction for 28 years, including seven years for Mountain States Construction.
"I came back to Sunnyside because this is a great place to raise kids," said Dolan.
Dolan was approached by Sunnyside School District Superintendent Dr. Rick Cole to teach fusion technology at the high school.
"I thought this was kind of cool," smiled Dolan. "If I did get a job teaching I could see what my kid was doing."
Dolan said at first school officials didn't feel there would be much interest in a fusion technology class.
"It took off fast," said Dolan.
"Sparks, fire and noise fascinate them (students)."
Dolan said he enjoys watching the students in his class and seeing how they change.
"I like seeing silly little kids turn into confident young men and women," said Dolan.
Dolan's class doesn't deal specifically with teaching fusion technology. But quite the contrary. Dolan said he works on doing such things as building teamwork skills and stressing the importance of using common sense.
"Once we establish that we are all friends, good things really happen here," said Dolan.
Dolan also stresses parental involvement in his class.
"I encourage parents to come down here," said Dolan, citing one of the reasons why he has big windows in his classroom, so parents can watch.
Dolan's class time is not just dedicated to the regular school year. For the past three years, Dolan has been the instructor of a summer welding program through the Yakima Valley Tech Skills Center.
"I thought that would be fun," said Dolan.
One aspect of the fusion program that has surprised Dolan is the number of girls who have responded to the program.
"I was surprised girls would even sign up for the class," said Dolan.
Dolan said some of the girls in his classes have done some very creative projects.
An emphasis for Dolan in his class is first and foremost safety, which is what students see when they walk through the doors.
"The more you know the safer you are," said Dolan.
Dolan also tries to teach students the value of respecting one another. He said teaching respect to students helps them learn the value of helping others in the world. Dolan said he also tries to teach his students to be good to others in the world and good things will happen to them.
"I learned what goes around comes around," said Dolan.
Dolan's class has been quite busy over the last few years. Students in his class built the gigantic Grizzly bear that stands tall over Clem Senn football field. They also have put together the sidewalk that extends from the high school to the football field, including the footprint stamps that adorn the concrete. Dolan said projects such as these help the students take ownership in their school.
In the coming school year, Dolan said his advanced students will be working on improving the projects that have already been done at the high school.
Dolan is trying to expand his instruction, wanting to teach students to be stainless welders. He said stainless welding jobs are in high demand, and come with large salaries.
In his class Dolan tries to instill in students that they can go as far in the field of welding as they want.
"This field is wide open to (students)," he said. "Your choice of where you are going to go is up to you."
Dolan's summer welding program recently helped Danny Mendoza finish his Eagle Scout project, a giant red wagon for Sunnyside's Promise.
"I am always happy to help kids get somewhere," said Dolan.
Dolan said he has never looked back on his decision to become a teacher.
"It is easy to be a good teacher when you have good students," said Dolan.
Dolan said his ultimate goal is to have students have a good experience in his class while learning a vocation that could lead to a prosperous career for them after high school.
"The welding is just a bi-product of what they learn here," said Dolan.