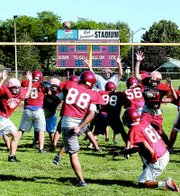 Much like its greyhound mascot, Grandview football will be fleet of foot heading into the 2005 season.
Second-year head coach Dustin Lamb will rely on senior leadership and quickness to improve on last year's 3-6 regular season mark.
Three of those losses, however, were to CWAC South foes Othello, East Valley and Connell, which finished 1-2-3 at State.
"We definitely have team speed but depth will be something to deal with when we play larger teams like Othello," Lamb observed.
Senior all-conference quarterback Brandon Artz returns to guide Grandview's spread offense and should have plenty of targets, starting with senior all-conference receiver James Vela.
Another senior, Kevin Concienne, will share wide receiver duties along with junior Zach Poteet and sophomore Marty Guillen. "We have a pretty good mix of juniors and sophomores on the team," noted Lamb.
All-conference senior Blake Carpenter at 6-2, 230, returns to anchor the Hounds' defensive line. Fellow all-conference selection, senior J.R. Camacho, will be a vital cog in the Greyhound defensive scheme as well.
In an unusual two-way combo, the wide receiver Concienne is also a linebacker for Grandview. "He's a tough kid," noted Lamb.
Artz will double-up and play safety in the Greyhound secondary.
Speed and a spread passing attack should put points on the board for Grandview, but Lamb said line play will be one of the keys to progressing beyond the first-round of the district playoffs.
"We've got to play solid up front," Lamb explained. "On offense we have to protect the passer and on defense we have to stop the run."
In addition to Othello, other larger teams on Grandview's schedule include 3A Ellensburg and the Sept. 2 season opener at rival Sunnyside.
"We'll use our quickness for a lot of movement up front to confuse the other team's line," Lamb noted. "We'll mix it up."
Defending 2A state champ Othello appears to be the team to beat in the CWAC South, but Lamb noted the league will be more balanced this year with new coaches at Toppenish and Naches Valley.
Speaking of Naches Valley, mark your calendar for Oct. 7 as on that date the visiting Rangers will be Grandview's homecoming opponent.