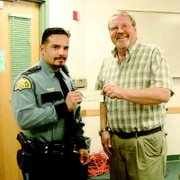 Randy Harris of Kennewick was extremely happy to part with $1,000 yesterday (Tuesday). The pawnshop owner presented the money to the Sunnyside Police Department as reward for their excellent police work.
The check is part of a promise Harris made the day following a break-in at his Ace Jewelry and Loan shop in Kennewick in which six handguns were taken.
"Every day since I've wondered if one of the guns taken from that break-in was being used in a shooting," he said.
Yesterday, he was happy to announced the two men who stole the guns from his business are now behind bars, at least for the next 5 to 8 years.
He said the men, Maurico Leon and John Valaro, both of Sunnyside, were prosecuted in federal court for their crimes.
"This man right here is responsible for their arrest," said Harris, pointing to Sunnyside Police Officer Oliver Hernandez.
Harris said at the time of the break-in he offered to pay a reward when the persons who took the guns were caught and convicted of their crimes.
Hernandez was responsible for arresting the men just two weeks following the Aug. 6, 2004 break-in.
Hernandez said he stopped the men on a minor traffic violation but upon closer inspection of the men's car he saw guns in the back seat.
The men were arrested immediately and held in the Sunnyside jail.
According to Hernandez, the men were also involved in a string of gun burglaries that spread across Central Washington, from Ellensburg to Spokane. Thousands of dollars in guns and jewelry was taken in the break-ins, which included 58 guns taken from a Spokane pawnshop.
Leon and Valaro were found guilty of the burglaries, including the Kennewick break-in. They now are facing time in the federal penitentiary.
Hernandez said the Sunnyside police issued a number of search warrants following the arrest of Valero and Leon, in which some guns and jewelry was recovered from the Spokane burglary. But it wasn't until this past November that one of the guns from Harris's burglary was recovered, Hernandez said.
Recovered and returned was a .45 Glock taken from Harris' shop. Unfortunately, the majority of the guns found their way to the streets and haven't been recovered yet, Hernandez added.
The $1,00 reward will be added to the Sunnyside Police Department's crime prevention fund, said Sunnyside Police Chief Ed Radder.
"You're fortunate to have such a fine officer," Harris told the chief.
But as Sunnyside Assistant Police Chief Phil Schenck said, "the arrest is typical of the excellent work we expect of Oliver Hernandez."