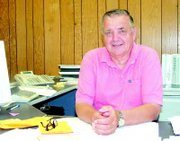 Between them, the Plesha brothers hold the purse strings to school treasuries containing more than $64 million in federal, state and local funds.
Dave Plesha is the man in charge of accounting for the $53.8 million in the Sunnyside School District budget, while his younger brother, Charlie Plesha, is in charge of Mabton's $9.8 million budget. They take their roles extremely seriously and while the men work independently of each other, they often share concerns.
But who else should they call? The men have a wealth of financial experience garnered during their combined 60 years of school accounting know-how.
They often phone each other with questions or answers about grant applications and regulations as they work the accounts for the two vastly different school districts.
While older brother Dave has the large budget, Charlie's budget is no less complicated.
"We have a lot of regulations we must adhere to in order to meet all the requirements of the laws concerning school finances," the younger Plesha said.
But neither man would trade their huge responsibilities for something easier. In fact, both men started as teachers, but quickly moved into administrative roles.
Dave Plesha, who has been in the education field since 1967, began as a bookkeeping and typing teacher for a number of school districts before landing in the Wapato School District. It was there he got his start as a school business manager.
"I was looking for something more challenging," he smiled.
Before long he was recruited to work as a business manager in Sunnyside. Plesha said former Sunnyside School Superintendent Ralph Pistorese hired him in 1970 to handle the district's budget. For the next 30 years, he balanced Sunnyside School District books, figuring out ways to get funds for the district.
Even though Plesha decided to retire in 2000 as the district assistant superintendent in charge of finances, it was only 11 months later he was back in the finance director's office in Sunnyside.
While these days he works just four days a week as the district executive in charge of finances, he continues to bring the same work ethic to the job.
"He has a wealth of knowledge to share," said Brenda Meyer, a long-time member of the school business office staff. "We learn something new from him all the time," she added.
"I like it here," the seasoned financial director said.
"I have always liked working in the schools and I'm excited about our new building project and the renovation projects the district will soon be undertaking," he added.
Meanwhile, across the Yakima River in the smaller Mabton School District, brother Charlie is just as enthusiastic about his position as the district's lead money man.
Like his older brother, Plesha began his career as a teacher working in a number of school districts before coming to the Sunnyside School District in the late 1970s. He earned his principal credentials while at Outlook Elementary and in 1980 was hired to be the principal at Artz-Fox Elementary School in Mabton.
It was a job he liked so well, he held it for 17 years.
In 1997, he asked to become a member of the school's business office staff as lead finance director. For the past eight years, he has maintained the district's budgets, and strived to ensure the district meets all of its policies and procedures regarding district spending.
"I love the challenge," he said, echoing his big brother's comments.
"I come back to school each year renewed and ready to face whatever comes our way," he said.
"It's not a simple job," he said of his work. "I'm learning all the time, but it is a great job," he added.
"I like the challenge of finding money for the district and saving the taxpayers' money where I can," he added.
While both men have enough time in to take advantage of the state's retirement plan, neither seem inclined to walk away from their jobs.
"This work is still too much fun," they agree.