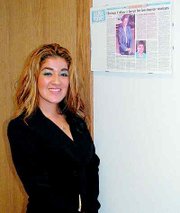 Maggie Alejandre is a driven, young woman. Articulate and polished, she is well on her way to earning a Bachelor's degree in business administration. As she nears her 2006 graduation date, Alejandre is already looking at a career in marketing.
Based on her work this past summer, she may even be a step closer to having a job with a major food company.
But, that is only a maybe, the petite, young woman cautions. Still, she is ready to make the move if she's asked, she admits.
A senior at Toppenish's Heritage University, Alejandre just completed her fourth summer with Kraft Foods as a summer intern. She spent most of the past several months working in the company's corporate headquarters, fine tuning research on consumer demographics.
A full-time student at Heritage University in Toppenish, Alejandre also works part-time at New Dimensions Salon in Sunnyside to help put herself through college.
She said the three-month internship, which took her to the Midwest, found her living and working in Cincinnati, Ohio, working with a team of fellow business interns on a variety of projects.
"I have worked for Kraft Foods for the past three summers, mainly in Washington state, helping market projects in grocery stores," she explained.
"This summer I had an opportunity to share some of my own research on marketing to the Hispanic population," Alejandre said.
"What they weren't seeing is that the United States Hispanic population is made up of not just Mexicans, but Puerto Ricans and Cubans, for example.
"Our tastes in foods are quite different," Alejandre said.
"For example, Puerto Rican food is not nearly as spicy as say Mexican foods," she explained.
"I was able to share my research with the director of global marketing and he was very complimentary of my work," she said.
Alejandre obtained her internship through a program called Inroads, which is a non-profit talent recruiting agency that connects individuals majoring in business administration with Fortune 500 companies, Alejandre explained.
During her past summer internships, Alejandre found herself experiencing job shadows with company product representatives. One summer, she was the product representative working with stores in Western Washington. Last summer, her work was focused on Eastern Washington grocery stores.
"I was able to work with both chain grocery stores, like Albertson's, as well as independent stores, such as Food Pavilion," she explained.
Alejandre said she liked working with the independent grocery stores. "They have more flexibility about adding products to their shelves," she said.
Alejandre said she saw her internship as a real job and a challenging opportunity.
"It was a rigorous process and one from which a lot was expected from the interns," she said. "We began to expect a lot from ourselves, as well," she added.
In addition to being flown to Cincinnati, Alejandre also worked in Chicago and in Pittsburgh this past summer. It was while she was in Pittsburgh that she was able to pitch her ideas on Hispanic marketing strategies to the Kraft Foods leaders.
Alejandre, who is also a Mellon Mays Undergraduate Fellow, will be presenting her marketing portfolio to the fellowship board at Stanford later this year.
The daughter of migrant parents, Alejandre has lived in the United States since 1992, and is a graduate of Zillah High School.
For Alejandre, the chance to go back East for the summer was both a challenge and a natural progression in her career plan.
"This is a crucial year for me," she said.
"I'm concentrating on marketing so the opportunity to work in Ohio and to spent a few weeks in corporate is a big boost to my future," she said.
She said her education has been greatly aided by the support she has received from Heritage staff.
"My advisor Len Black is a great mentor and President Katherine Ross is a wonderful role model," she said.
"I'm very fortunate to be going to school here and to be given the opportunity to improve myself," she added.