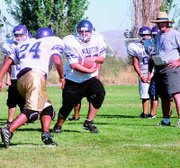 MABTON - Ask Viking head football coach D.J. Search how his team looks this year, and he'll quickly tell you it's not his team.
"It's our team," he says, stressing that the fortunes of the Mabton High School grid team will be riding on the collective efforts of all involved with the Viking football program.
"There is no one kid who wins the game for you," he continues. "Everyone on the team is buying into that.
"We're all buying into the team concept.
"It's an awesome feeling to watch the boys at practice, encouraging each other and cheering each other on," he said.
Team-wise, the 41 players, Search himself and Coaches Dave Van Atter, John Durham and Lance Zavala, and even team managers Elva Moreno and Kailee Partida are expecting good things to happen this year. That's because Mabton posted a solid 7-4 record in 2004, earning a spot in the 'B' State playoffs as a result, and figure on doing even better this season.
"Our goal is to not settle for 7-4 this year," Search said.
"We're a very physical football team," he explained, adding that this year's Vikings also bring a lot of experience to the table.
As with most football squads, the success of the team relies heavily on the offensive and defensive lines.
"It all starts with the line," confirms Search, who couldn't be happier with the bodies he's got in the trenches this season.
If you were to single out a leader on Mabton's offensive line, it would be tough to look past senior Alex Balli. At 5'8" and 210 lbs., Balli brings a toughness that the entire line can rally around.
"He understands what we're trying to do," Search said of the offensive guard.
Juniors Robert Marquez (guard) and Ramon Moncivaiz (center) also return to the 'O' line, and both, said Search, bring the experience that should result in gaping holes for Mabton's option attack.
Although neither Adrian Magana nor Nathan Smith have started on the offensive line for Mabton before, the two juniors appear ready to make an impact. Magana brings the toughness he displayed as Mabton's defensive nose guard last season, and Smith-a transfer from Oregon-has what Search describes as good size, a knowledge of the game and the type of toughness that melds with the tenacity of the rest of the linemen.
"Nathan (Smith) is a big cheerleader for our team," said Search. "He's constantly encouraging the others at practice, and he understands the team concept."
Mabton's defensive line looks to be comprised of Balli and Marquez at the tackle positions, Magana at nose guard, sophomore Eli Perez at defensive end and Moncivaiz rotating in to spell the starters.
The Oregon transfer Smith is penciled in as the Vikings' middle linebacker, but he'll get plenty of help from returning linebackers Pablo Sanchez, a senior, and Moises Gutierrez, a junior.
In the defensive secondary, senior Alex Zavala is making the switch from playing corner last season to free safety this year. Senior Lupe Campos returns as a starting cornerback.
"It's a tough bunch of boys," said Search. "They're all extremely physical.
"Skull and crossbones, that's the team attitude this year. Whatever it takes within the rules to win, that's what you do...that's what we tell them before each game," said Search.
On offensive, from a skill position outlook, Mabton returns plenty of veterans, as well.
"Offensively, we're looking good, with lots of guys returning," Search said.
The Vikings' opponents will see Mabton's three-running back set in most formations...all of which are designed to carry out an option attack. Two seniors, Sanchez and Ray Elizondo, return as ball carriers, as does junior Ramon Castillo. Perez, the sophomore, is also expected to tout the pigskin this season.
Expected to make Mabton's option attack even more proficient this season is the switch of the senior Zavala from star running back to quarterback.
"Alex (Zavala) is a good athlete who competes hard," Search said. "He's further ahead in understanding what we're trying to do with our offense than a typical first year quarterback.
"We're making a slow transition to becoming a good option football team. Everyone is getting on board with that," Search added.
When Zavala does opt to put the ball up in the air, he'll have three targets adept at hauling in passes. The junior Gutierrez will start at tight end, and Campos and junior Eric Tellez will serve as his wideouts.
Mabton kicks off the 2005 season this coming Friday at home, with a non-league game against the visiting Lyle Cougars.
"We want to get off on the right foot," said Search. "We're looking at Friday's game as a confidence builder."
For Viking fans, expect Mabton to churn up some turf, not only this Friday, but all season long. As Search told his players when a train rolled past the practice field this past Tuesday afternoon, "Boys, there ain't nothing stopping that train, and ain't nothing going to stop you."