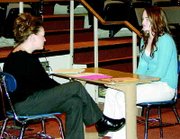 Angel Martinez sat dressed in a black shirt and silver tie Wednesday morning.
He wasn't nervous. Maybe he should have been.
Martinez was waiting to interview for a position as an airplane machinist.
But Martinez wasn't sitting at Boeing, Lockheed Martin or Airbus.
He's only 15 years old.
Martinez is one of about 200 freshmen who participated in mock interviews Wednesday at Sunnyside High School as part of a required freshman class called Careers.
The semester-long class helps prepare students for life after school by having them participate in activities like mock interviews, business and marketing teacher Erin Ferguson said.
"It certainly makes them feel a lot more comfortable," Ferguson said of the interview process. "Not everything is so scary and new."
Martinez said he appreciates the interview process because it helps prepare students.
"It's important because we're going to have to do it later on," he said of interviewing.
That extends beyond just how to interact with someone who may offer students jobs. It includes things like paperwork and proper interview attire.
"She's showing us that if you dress up more, you really want the job," Martinez said of Ferguson.
The interviews, which occurred with members of the community who agreed to participate, lasted an average of seven to 10 minutes, Ferguson said.
Those people who interviewed students, Ferguson said, are in positions where they could be hiring students in the future, whether that be while they're still in high school, or after they graduate.
Not everyone who interviewed for a position did so for as skilled a position as Martinez applied.
Students interviewed for a variety of jobs, including electrician, carpenter, policeman and waitress, among many others.
Mayra Corona, a 14-year-old freshman, said she interviewed for a waitress position.
"I didn't dress up, but I was well prepared," she said.
That might have hurt her chances - not of getting the job, but for getting a good grade.
Ferguson said the interviews count as a test grade for the students.
While appearance and composure only count for 10 percent of a student's grade, it's enough to make the difference between getting an A or a B.
The rest of the test grade is made up of 75 percent for responses to questions asked by interviewers, and 15 percent for paperwork done prior to the interview, which includes a resume, cover letter and application.
Students were expected to be prepared. Ferguson said the students spent three weeks preparing for the interviews.
They had to research a job they might possibly want to pursue in the future, and prepare a resume and cover letter based on the skills and education level they currently possess.
As a result of the wide variety of jobs for which students could interview, questions had to be mostly generic, Ferguson said.
That meant students were responsible for telling interviewers how the skills they possess relate to the job for which they were interviewing.
"When it comes to the big picture of life, research, strengths and weaknesses, selling their best qualities; I think those are all big factors," Ferguson said.