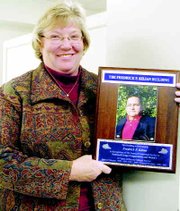 GRANDVIEW - A year after his death, the memory of Fredrick Kilian was honored by having Grandview's National Grape Co-op building named for him.
A plaque marking the honor was presented to Kilian's widow, Karon, on Nov. 21 during an annual meeting.
"Mr. Kilian was sincerely dedicated to serving Welch's and the grape industry," said Mike Concienne, senior regional manager for National Grape Cooperative.
The Grandview National Grape Cooperative office, located at 504 Birch Street, is now officially known as the Fredrick P. Kilian Building.
"It's nice that he (Kilian) hasn't been forgotten," Karon Kilian said of her husband's 37 years with Welch's, including seven as Director for National Grape.
Kilian's contributions included serving as a down-to-earth, straight-talking member of the Welch Foods Board of Directors.
"We practically had a second home on the east coast," Karon laughed as she recalled her husband's frequent trips from the Lower Valley to Welch Foods' headquarters in Westfield, New York.
Kilian's roots in Lower Valley agriculture and grape growing ran deep. His parents settled in the area as farmers.
His brothers, Herman, Jr., Winfield and Ervin are still farmers. One of Kilian's sons, Paul, has continued the farming tradition.
But Kilian's greatest contribution to the state's grape industry cannot be traced in family history or measured in bottom-line board rooms.
For him it was all about vision.
"He knew that grapes were going to be a big industry 30 years ago and he wanted to be more involved in its development," noted Karon. "That's why he started his career in the first place."
Karon said the building name honor, coming a year and a day after her husband's death at the age of 64, was life affirming and emotional. "They even gave a standing ovation when I went up to receive the plaque," she added with a smile.
So what would Fredrick think of all the attention to his contributions and legacy for National Grape and Welch's?
"Oh, he would call it foo-foo stuff," Karon laughed tearfully. "But he would be so very pleased."