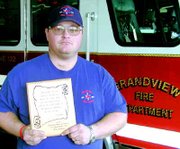 GRANDVIEW - Eric Stanton, son of Sunnyside's former fire chief Jim Stanton, was named Grandview's firefighter of the year for 2005.
The announcement came during a chamber of commerce-sponsored award ceremony recently.
Grandview Fire Chief Charles Damron said Stanton, a fire department volunteer, was named firefighter of the year for responding to the highest percentage of aid and fire calls.
"He responded to over 50 percent of the calls this year," noted Damron. "He's a go-getter and always willing to lend a hand."
An employee of Anderson Equipment, Stanton is not only the leading responder for Grandview but for District 5 as well.
"I really enjoy helping my community," Stanton said. "It's gratifying to go out on aid calls and be able to help people."
The job of a firefighter can be tough, especially in a small, close-knit community like Grandview.
"We help people who are probably having the worst day of their life. We have to get the job done and be compassionate at the same time," Stanton said of putting aside emotions when assisting residents, especially those he knows well.
"If there's an issue or an emotion we (the firefighters) need to talk about, we can do that later with each other," Stanton explained. "We have a pastor in the department now and he's a good guy to sit with if you have some issue chewing at you."
Despite growing up in a firefighting home, his dad Jim retired last year after 33 years with the Sunnyside department, Stanton is a relative newcomer.
Next month marks just his second anniversary as a firefighter.
"It's something I didn't think much about before," he reflected. "But I love the community here and just want to give something back."
At the same time, he's continuing a family tradition.
"Growing up as a little kid I was proud that my dad was a fireman. I've got four kids now and I see that pride in them now that their dad is a fireman."