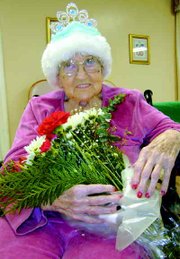 A 100th birthday party is old hat for Vera Massey of Grandview, who celebrated her 101st birthday Nov. 29 at a party given by the Grandview Health Care Center where she resides.
Mrs. Massey was serenaded by her daughter, Dena Phillips of Sunnyside, who entertained with songs the more than 50 people who attended the party coordinated by Maria Cruz, activity director.
Phillips had also brought photos for the 'birthday girl' and her guests to browse through. In doing so, Mrs. Massey recalled a cold spring creek the family used for refrigeration.
"She told us it was uphill from a two-room house the family lived in, and she used to brush snakes off the milk cans," said Harry Aubert, center administrator, who compiled a historical profile, which he read at the party.
"When you stop to think about the history she's lived through, it's amazing," said Aubert.
"When Vera was born, the average life expectancy in the U.S. was 47, and the maximum speed limit in most cities was 10 miles per hour," noted Aubert, without making a connection between the two facts.
He also pointed out that most women 101 years ago washed their hair only once a month, using Borax or egg yolks for shampoo, and the American flag had only 45 stars because Arizona, Oklahoma, New Mexico, Hawaii and Alaska hadn't yet been admitted to the Union. Teddy Roosevelt was visiting the World's Fair in St. Louis in 1904, the same year construction began on the Panama Canal and the New York subway opened, and the Model T Ford was introduced just four years later in 1908.
"And can you believe there was no Mother's Day or Father's Day," said Aubert.
The average wage in 1904, Aubert told his listeners, was 22 cents an hour, the Eiffel Tower was the tallest structure in the world, and more than 95 percent of all births in the U.S. took place at home.
No one asked Mrs. Massey, who was born Vera Passmore on Nov. 29, 1904 in Thola, Arkansas, where that birth took place.
She married Roy F. Massey in 1923 and three of their five children survived. Two were stillborn. They lived in Mountainview, Arkansas for a short time before moving to Sunnyside in 1947, where Roy worked at Hanford as a painter and carpenter.
Her husband lived to the age of 97, dying on June 30, 1997. Their son, Laverne, who served in the U.S. Navy Seebees, now resides in a nursing home in Quincy; Dena in Sunnyside; and Mary in Soap Lake.
Mrs. Massey's hobbies over the years were knitting, crocheting and gardening. Her love of gardening and flowers followed her right into Grandview last summer, when she let the staff at Grandview Health Care Center know that she "simply had to go outside" on even the hottest summer day.
"I told her 'Vera, it's hotter than hell out there', but she'd just say 'It was hot in Arkansas too', and out she'd go with her sunbonnet on. She just wanted to be outside," said Aubert, adding, "She's just a kick!"
Was there any one thing that Mrs. Massey expressed a wish for on her 101st birthday?
Yes, indeed.
"She wanted a blue crown, so we got her one," said Aubert.