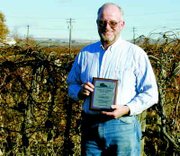 How long has Don Golladay been involved in grape growing?
"All my life," he said.
The 58-year-old Concord grape grower, who lives just outside Sunnyside on Factory Road, has also spent the majority of his life in the Lower Valley.
He grew up on a vineyard just north of Grandview, he said.
His grandfather started the family business in the 1920s, with just over one acre of grapes.
"My dad got serious about grapes in 1950," Golladay said of his father, Clarence, who was a big reason Golladay got serious about grape growing, himself. "I think at that time we had about eight acres of grapes."
Golladay left the Valley briefly from 1967 to 1971 to attend college at Northwest Nazarene, he said.
He earned a degree in business administration.
Logically, or maybe illogically, he accepted an invitation from his father to come to work in the family business after finishing his education.
Working land wasn't anything new to Golladay.
In high school, he leased 20 acres of grapes from his uncle. He attended school during the day and work the land after school, he said.
So, when the opportunity presented itself to return to the Lower Valley and help in the business he'd grown up around, Golladay, and wife Terria took it.
Golladay's father died just three years later, leaving Golladay in the position he's in today.
He owns more land now - 160 acres to be exact. It's spread over six properties all over the Lower Valley, Golladay said.
"We picked up smaller parcels and kept adding to it as time and opportunity allowed," he said.
All the while Golladay stayed active in the Washington State Grape Society after joining in 1971.
He said he's served in all capacities in the grape society. He served as its president from 1979 to 1981, and was given the Walter Clore Award in 1985.
This year, Golladay received the Lloyd H. Porter Grower of the Year award.
The award is named for a former Welch's manager who worked in Grandview in the 1970s and 1980s. He died of cancer in the early 1990s, and the award was named in his honor shortly thereafter.
Golladay said he was glad to receive the award.
"It's an honor," he said. "It's your peers choosing you as the recipient of an award given to a chosen few."
The award winner is chosen by members of the society who vote for whom they believe is the most deserving after names have been submitted as nominees, Golladay said.
Though Golladay was happy to receive the award, he said growers are facing more challenges than they used to in the past.
"It's all economic," he said. "The price of grapes paid to us has been declining from 1999 to the present. Labor costs are huge."
Those problems ensure one thing, Golladay said, "It's not boring."
In fact, being a grower has allowed Golladay to do a number of things he wouldn't have done in any other profession.
"Being a farmer gives you a chance to be anything you want to be," he said jokingly, explaining that he's had to become a mechanic, businessman and many other things while running his vineyard.
But those problems have caused problems in the growing community, he said.
"There are very few new young people coming in that aren't associated with an established family," Golladay said.