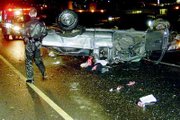 Thursday's snowfall resulted in icy roads and an estimated 60 traffic accidents in the Yakima Valley, 49 of those in the Lower Valley, according to Tom Foster, Sergeant for the State Patrol's Sunnyside detachment.
"The major problem was the ice, people don't realize the roadway is frozen and end up sliding around," said Foster.
As to why so many of the accidents were in the Lower Valley, Foster said Thursday's weather system created a situation where temperatures were just at the point to melt the snow to water when it hit the roadway, then turn the moisture to ice.
Most of Thursday's weather-related accidents were single-car incidents where drivers either slid off the road or bumped into a guardrail.
There were four injury-related accidents in the Lower Valley Thursday, Foster reported, including one fatality involving a Grandview man (see related story on page one).
Though snowfall has subsided today, Friday, roads will remain icy even if temperatures climb above freezing.
As of Friday morning, for example, there were already an additional eight motor vehicle accidents in Lower Valley, Foster said. "The roadway was like a sheet of ice," he noted. "Even though the outside temperature was 36 degrees, the asphalt was still frozen."
Weather and road may be unpredictable, but Foster noted there are ways motorists can minimize their risk of being a victim of snow and ice.
"Slow down and give other drivers plenty of room," he emphasized. "Make sure your car is properly equipped with snow or mud-rated tires. Good tires are essential this time of year."
Foster advised motorists to travel at speeds that conditions allow, not necessarily those posted on speed limit signs.
"Just because the sign says 70 or 35 miles per hour doesn't mean you have to go that fast," he explained. "Depending on conditions, the appropriate speed might be half that or even less, for example."
If you still end up in an accident or sliding off the road, Foster again stressed safety first. "Be aware of other cars and try to stand away from the scene. If you slid off the road there's a chance the next guy might do the same thing."