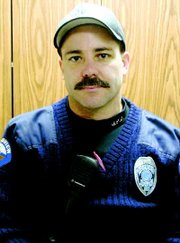 GRANDVIEW - Called a "role model for the city's youth," Mitch Fairchild was selected as Grandview's police officer of the year for 2005.
"Mitch knows almost all of the youths in the community and has worked closely with them in the past," said Lynda Jo Gross, manager of the Chamber of Commerce, which sponsored the city's annual awards banquet recently.
"He is a real, tangible role model for the kids that are moving up through our educational system and for those that have graduated," Gross added.
Fairchild is involved in scouting and heads up Grandview's police explorer program for ages 14-21. He is also an assistant wrestling coach for Grandview High School.
"I'm here because it's a great department to work for," said Fairchild, a 14-year veteran of the Grandview force, including three years as a school resource officer. "I couldn't pick a better place to work."
A Kennewick native, Fairchild said he was drawn to Grandview because it is a small, friendly town. "There's a tight-knit group of folks here."
Grandview Police Chief Dave Charvet noted that Fairchild was selected for the award by his peers on the force.
"He does a lot in the department and was real involved in our drug task force," Charvet said of Fairchild. "All my guys (on the force) are pretty good but they chose Mitch because he leads by example when it comes to police work."
Charvet added that between his involvement in scouting, coaching and police explorers, Fairchild "knows all the children, and that's really a help to the department."
But Grandview's police officer of the year has a helping hand in his many hours of work and volunteering.
"This award could probably go to my wife (Rebecca)," Fairchild said with a smile. "She's the one that puts up with all my late hours."