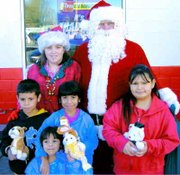 GRANDVIEW - Santa was sighted at Les Schwab's in Grandview last Saturday, Nov. 26, greeting people and having his picture taken with several kids.
Later that day he was spotted at Eli and Kathie's eatery where he had his picture taken with a couple of employees there.
During his surprise stops, Santa was assisted by one of his elves, Tamara Ehart of Grandview. St. Nick and his elf were chauffeured by Keith Jenks, a member of AMVET's Post 711 of Grandview.
Santa and his elf are scheduled to make a repeat visit to Grandview on Saturday, Dec. 3, at Karen's Floral Shop at about 11 a.m. Afterwards he will appear at Pony Espresso and Ace Hardware. Word is that Santa will make other appearances around town as well.
The Santa sightings, there may be one in Prosser or Sunnyside next Saturday, are sponsored by AMVET Post 711 to get Lower Valley residents in the spirit of Christmas. The post is asking for a small donation to their relief fund, although one is not necessary.