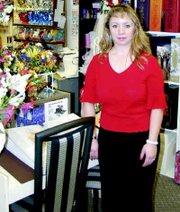 Though Griselda Blankeship has worked at A.J.'s Too Invitations Plus for the past seven years, the 30-year-old woman still thinks about going to college.
Why?
She might want to pursue a career as a nurse, she said.
But for now, Blankenship sells all sorts of things for a variety of celebrations, including weddings, baby showers and quinceañeras, she said.
"(I like) just being able to help them," she said.
She said she likes to be able to make customers feel comfortable.
"Sometimes the brides get really frustrated when they can't find invitations," Blankenship said.
With the variety of people who come into the store, it would have been difficult to make everyone feel comfortable, at first.
That's because Blankenship moved to Sunnyside from Mexico when she was 18. She said she spoke absolutely no English, but she and her five siblings and their parents decided to move in search of better opportunities and because they had a lot of family already living in the area.
That made it tough when she met Phillip Blankenship, her future husband.
He spoke no Spanish and she spoke no English when the two met, she said.
"It was really hard," Blankenship said.
Ten years and two children later, the two speak both languages, and so do their two children, 5-year-old Stephanie, and 9-year-old Phillip.
Spending time as a family is something Blankenship said she loves to do.
"My favorite part is the weekend when we're all home as a family," she said.
Like many Spanish-speaking people who move to this area, Blankenship said it was a big help having such a large population of people who spoke her language here.
"It was helpful," she said. "It was a lot easier."
She likes several things about the area, but she likes one thing in particular.
"I love the seasons," she said, "that you get all four seasons of the year."
Is there anything she doesn't like about the area?
"No, not really," Blankenship said. "I like everything."