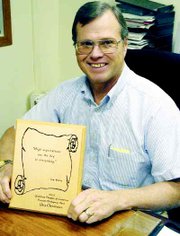 GRANDVIEW - Gary Christensen, President of R.E. Powell Distributing, recently earned a Grandview Chamber of Commerce award for economic development.
"Gary has worked hard to recruit businesses to the area," said Chamber manager Lynda Jo Gross. "I've heard Gary stress the importance of providing employment opportunities in the area so that our kids return here after college to work and raise their families."
Much of Christensen's volunteer efforts for economic development are as a member on the board of directors for Yakima County Development Association (YCDA), or New Vision.
Christensen was one of the New Vision representatives active in recruiting the Wal-Mart Distribution Center, and the 800 jobs which come with it, to Grandview.
"Living in Grandview, I'd like to see as much progress come to the Lower Valley as possible," Christensen said.
Christensen sees his role on New Vision as an advocate for recruiting new businesses and industries to the area. His several hours of volunteerism each month also extends to existing businesses who may need a hand.
"If a business finds it difficult to fill a certain position, we (New Vision) can work with YVCC and Perry Tech for training for those jobs," said Christensen, who is a judge for the University of Washington's Minority Business Awards.
Efforts by New Vision also include classes for employees in the hospitality industry to help with customer service and increasing company sales.
The benefits of Christensen's work are not only economic-each dollar from a new business generates seven dollars in economic stimulus to the community-but for future generations, as well.
"The very biggest reason that I spend so much time as I do on economic development is so that our kids will have local jobs to come back home to after college," Christensen said.
"If I can help make this a better place and help create new opportunities that provide jobs, then I'll feel like we've accomplished something."
Christensen isn't resting on his 2005 laurels.
Though he couldn't divulge any names, Christensen estimates that in 2006 there will be at least 12 to 15 new businesses recruited in hopes of bringing them to Yakima County.