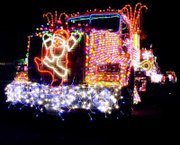 Sunnyside hosted its annual lighted farm implement parade Saturday night.
On a bone chilling night, thousands of people showed up to watch the lighted tractors drive down Edison Avenue.
Earlier in the day, people had breakfast with Santa Claus at the Sunny Spot restaurant and then went and decorated cookies with Mrs. Claus at the Dairy Fair.
Before the parade began, the Sun's Choraliers from Sunnyside Christian Jr. High School sang Christmas carols. After the start of the Jingle Bell run, the parade started.
Among this year's winners were, in the modern farm equipment catergory, first place went to Schab Farm, second place went to Ervin Kilian Farms and third place went to Airport Ranch.
In the old farm equipment catergory, the Stewart Family took first, Prins Dairy captured second and Butch Ogden came in third.
Cliff's Septic won first place in the commercial farm equipment category. Sunnyside New Holland came in second and Lava Rock Nursery received the third place nod.
In the non-commercial organization category, the Miss Sunnyside Court came in first, followed by the Yakima Valley Farm Workers Clinic and the Sunnyside Fire Department.
In the antique cars and trucks category, Valley Hills Funeral Home was awarded first place honors and the Grandview Volunteer Fire Department placed second.
In the commercial Christmas Floats category, RDO received first, SVID came in second and Ben Sartin State Farm Insurance came in third.
The non-commercial Christmas floats top prize went to the Sunnyside Miss Cinco de Mayo committee. Todd Monroe took second and The Bent Rockers came in third.
The animal drawn entry division awarded first place to the Yakima Valley Dairy Women. Second place went to Alder Creek Pioneer Association and the Goldendale Jr. Rodeo Queen took third place.
For the youth entries, Gear-Up received the first place nod, Sunnyside Christian F.F.A. came in second and Sunnyside High School Fusion Tech. took third.
G.S. Long Company won the Sweepstakes award.