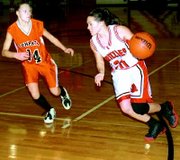 The Lady Grizzlies (1-1) outlasted the 2A Ephrata Tigers (0-1) this past Friday night, 59-48.
Junior Vanessa Torbay led the Grizzlies' scoring, pouring in 14 points, nine of which came in the first half.
Everyone on the Sunnyside roster got into the point column, something Coach Leo Gomez said he was pleased about.
"Everybody scored, which was nice," he said, "If you're going to go in you need to score."
Though some players only got a couple points in the score column, every point helped as Ephrata made a late run in the third quarter before Sunnyside closed the door, outscoring the Tigers 14-9 in the fourth quarter.
Gomez said freshman Molly Dolan played well for the Grizzlies. She scored seven points.
Kerri Urrutia and Talia Spini added 11 and nine points, respectively for the Grizzlies.
The weekend wasn't a complete success, as the Grizzlies fell to Othello the next night on the road, 51-42.
Sunnyside's Spini dropped in 14 in the losing effort. Dolan contributed eight, and Fatima Ruelas added seven points, along with Katie Wutzke's seven.
The Grizzlies got the lead down to four points in the third quarter before Othello came back to close the door on the comeback attempt.
Poor ball control contributed to the Grizzlies' shortfall, Gomez said.
His team just stopped taking care of the ball and wasn't ready to play until the fourth quarter, he said.
"We played good enough to win," he said. "But we didn't do the things we needed to do."
The Lady Grizzlies were also without Urrutia, who didn't play Saturday due to a prior committment, Gomez said.
Gomez said he takes responsibility for the fact that his team wasn't ready to play.
"I take a lot of that on myself," he said.
Turnovers and mental mistakes cost the Grizzlies the game.
Sunnyside travels to Hermiston, Ore. Tuesday for a non-league game.
Friday
Ephrata 9 13 17 9 - 48
SHS 14 15 16 14 - 59
SHS : Torbay 14, Urrutia 11, Spini 9, Dolan 7, Pacheco 6, Rollinger 2, Ruelas 4, Ramos 5, Wutzke 1.
Saturday
SHS 8 8 8 18 - 42
Othello 9 15 12 15 - 51
SHS : Torbay 3, , Spini 14, Dolan 8, Pacheco 1, Rollinger 2, Ruelas 7, Ramos 5, Wutzke 7.